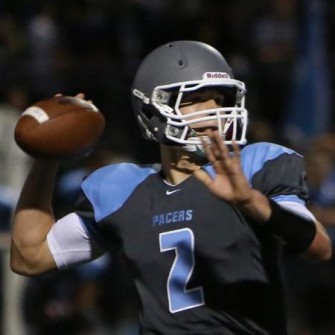 Entering the 2nd round of the playoffs this week, the Lakeridge Pacers are one of the better 6A teams in Oregon. They have had a tough last five years going (15-34) from 2007-2012. Cross-town rival Lake Oswego has been one of the most dominant teams in the Northwest over the same time period, making it that much tougher to swallow.
That said things have changed as the Pacers are sitting at (8-2) with a legit shot of advancing to the quarterfinals in 2 weeks. Coaching legend Tom Smythe has done a phenomenal job of getting the football community back on track, after being one of the most dominant programs in the state during the 80's and 90's. The addition of Coach Chad Carlson has been huge as both him and Smythe seem to win wherever they are at.
The key to making the Pacers go is Junior quarterback Eric Dungey (6-4 195 Jr. QB). He is in my opinion one the most recruitable QB's in the West, with all classes considered and someone that will hold multiple D1 offers. After Dungey's freshman season Coach Smythe said, "Eric could be the best quarterback we have ever had here." Anyone that knows the QB's that have come through Lakeridge realize how significant of a statement that is.
Eric has passed for 2,461 yards and 22 Td's, hitting on 65.6 % of passes (185/282) through the 1st round of the playoffs. He has also rushed for 636 yards and another 10 TD's as he is the true definition of a dual threat QB. The Pacers beat an always tough Bill Singler led South Medford group last week 30-17, advancing to play Southridge (7-3) in the 2nd round. Referencing the season and his team Dungey says, "My teammates are like family to me… JR McLaughlin (6-2 195 Sr. WR) has been huge this year and is a great receiver and leader, and Joe Sindlinger (6-7 180 Sr. WR) is a lethal weapon in the red zone." He continued, "Jack Cole (6-2 180 WR) is only a junior and will continue to just be a baller, and Lopeti Aisea (6-0 240 Jr. RB/LB) has been a blessing as teams now have to respect our run game."
Aisea is one of our top ranked junior's in Oregon and has been clutch for Lakeridge this season. He accounted for 920 rushing & receiving yards, and 11 Tds in 6 games through the regular season. Cole had caught 24 passes for 228 yards and 2 TDs as one of the state's other top juniors.
McLaughlin and Sindlinger were the senior leaders, as JR ranks as one of our top 3 receivers state wide, also being a legit D1 lacrosse kid. After the regular season he had 1, 054 yards receiving on 53 catches, with 8 TDs. The lanky Sindlinger made the catch heard all around the lake, and was lucky not to suffocate after the entire student body at Lakeridge mobbed him in the end zone after the hail marry from Dungey to beat LO. Joe has had a phenomenal season catching 34 passes for 387 yards and 6 TDs.
Vontrell Mills (5-10 175 Sr. ATH/CB) was another transfer and one of the most exciting players in the state. He accumulated 580 return yards and 2 TDs, on top of being one of the league leaders in multiple defensive categories including tackles (76) and pass deflections (6).
Referencing the difference from this year to last Dungey says, "Our school has a lot more spirit this year and fans can now be proud of our football team… After the LO game it was incredible with the whole community coming together and all of us receiving a lot of love from the alumni."
Defensively PSU commit Marqueese Royster (6-1 250 Sr. DE) has been an absolute tear and one of the top D lineman in the region. He accounted for 71 total tackles, 12 sacks, 5 hurries, and 7 forced fumbles through the regular season, with his cousin Massen Newton (6-0 245 DL) being one of the top sophomores in the state and racking up 45 total tackles and 5 sacks.
Three year starter Chase Marshall (6-3 235 Sr. LB) is that senior leader that every team needs. He projects as high as any athlete on the roster when referencing collegiate ball, as he is a very athletic kid with size that can run. He added 40 tackles and 2 sacks.
Countless other kids have contributed to this years success including juniors Joel Schwarz (6-1 190 Jr. LB), Tonga Taokelau-Aisea (6-2 215 Jr. LB), and Malik Newton (6-1 215 Jr. LB). Senior Clarke Smith (6-1 215 Sr. LB) went off leading the team in total tackles (83), with Tyler Miller, Jacob Tipton, and Adam Barrett all adding 50+ tackles defensively.
Many have jumped on the Pacer bandwagon as of late, as only one AP voter among 24 (Me) had Lakeridge ranked in the top 10 at mid season. The talent at the school is real, and the players have done a good job of staying focused and winning some big ball games in the brutal TRL.
In closing Dungey added, "We wouldn't be where we are at without the big boys up front, as our obvious goal is to win the state title." We will find out quickly if that comes true as the Southridge/Lakeridge contest should be one of the most competitive games state wide.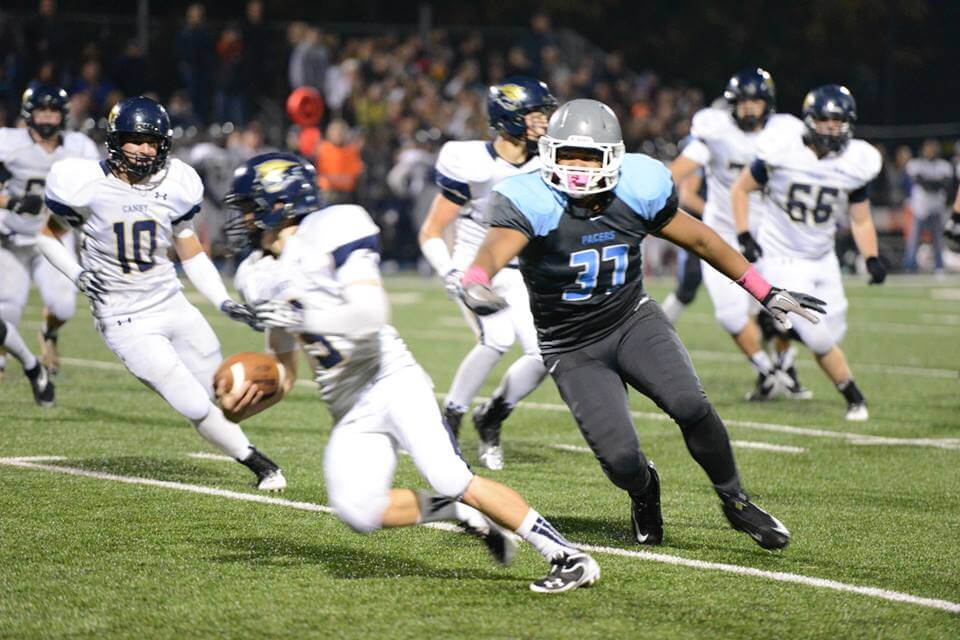 *Stats (Max Preps)