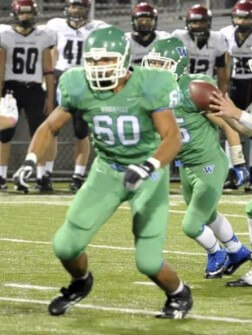 It was only about three weeks ago that the WSU coaches got in contact with in-state hoss Andre Dillard. The Woodinville, Wash. product was invited to WSU to take in the Utah game, a trek he made with has Father Mitch, who suited up for the Cougs in the mid-80s. Before he left Pullman, though, both Andre and Mitch received some great news from area recruiter Eric Russell and OL coach Clay McGuire.
Dillard admits he didn't expect an offer to come from the Cougs this fast, but when it did, during his unofficial visit on Saturday, you better believe it made a lasting impression on the Woodinvile High standout.
"It's the biggest offer I've gotten so far and it's really a special one for me," Dillard said. "When the coaches let me know that they wanted me to go there, I basically put my head down and had a huge smile on my face. I couldn't believe it."
In addition to WSU, Dillard also holds offers from Idaho, Portland State and Eastern Washington.
His area recruiter is WSU special teams coach Eric Russell, who first reached out to Dillard about three weeks ago. Checking in at 6-5, 240-pounds, Dillard said he was upfront with the Cougs about him being undersized for an offensive lineman.
It's something both Russell and offensive line coach Clay McGuire very much appreciated, Dillard said.
"They told me how sometimes in recruiting, players lie about their height and weight," Dillard said. ""I was up front with the coaches when they first started recruiting me about three weeks ago and let them know I was 6-5, but thin. When they met me in person over the weekend, they thanked me for being honest with them about my size, but said that they loved my frame. They think I could put on weight very easily.
"All of the coaches said they liked how quick I am off the ball and how I have great athleticism for my size."
Dillard played offensive tackle for the Falcons this season, but said that the WSU coaches didn't specify what position they envisioned him lining up at. Dillard said he could play either guard or tackle at the next level."
The trip to Pullman was also special for Dillard's father Mitch, who walked on at WSU, but lined up at center, linebacker and tight end for the Cougs during his playing days.
"He didn't really show a lot of emotion when I got the offer because he is kind of a reserved guy, but I could tell he was very excited for me because that's where he went to school," Dillard said. "He was happy to be on campus too because he said he hadn't been back to watch a game for 26 years.
"When we walked through the tunnel, it was big for him. He told me he hadn't done that since his senior day. Seeing him so happy definitely added to the experience of the trip for me."
Andre added that enjoyed seeing the campus as well.
"It was a lot of fun to go and watch the game," he said. "I liked that a lot and I enjoyed seeing what they're doing with the facilities. The coaches were all nice too. It was cool to see how everything works on game days."
As for where his recruitment stands, Dillard said he isn't ready to make a decision and is planning on taking official visits in both December and January. He did say the Cougs jumped to the front of his leaderboard, though.
"Right now I'd say Washington State and Idaho are my top two," Dillard said. "I'm going to take official visits to both of those schools. I don't have dates set yet right now for them, though. I'm going to try and take some visits to other schools as well."
Dillard capped off his senior year by being named the 2013 Kingco Crest Division Offensive Lineman of the Year.