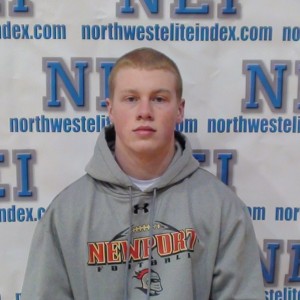 One of the more versatile and athletic players we at Northwest Elite Index ran across during the start of the 2014 recruiting cycle was Newport's Conner Baumann. The talented athlete recently visited one of his top schools and decided he'd seen enough and made the call on where he wants to play his college football.
"I chose to commit to Eastern Washington tonight," Baumann told NEI. "I went over there last weekend and got to meet with the coaches and spend some time with coach (Beau) Baldwin. I just loved it there and they are really big on the family atmosphere and I really liked that about the school and the program."
Baumann chose the Eagles over offers from Air Force, Army, UTEP, Wyoming and Northern Colorado.
This past season, Baumann was a two-way star for Newport, racking up over 1,600 yards and 21 touchdowns on the ground and it's the offensive side of the ball that Eastern projects him playing once he arrives in Cheney.
"The offer they gave me is for H-back, so I'll be playing offense for them," Baumann noted. "I really am excited about it and think it's a really great fit for me."