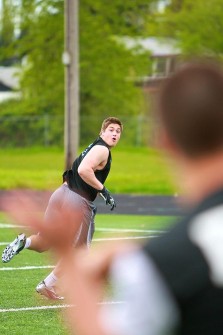 Henry Mondeaux (6-5 245 Sr. DE/LB/TE) will go down as one of the better high school players to ever come out of the state. The Jesuit standout made his intentions known this evening committing to the University of Oregon.
Mondeaux is widely regarded as one of the top dual threat athletes in the nation, and can play on either side of the ball at the highest level. Referencing his decision he says, "I think I fit in well with Oregon's program and I have always loved watching them play since I first started with football". He continued, "I've had dreams of playing in my home state and I just got the gut feeling that it was the right choice for me."
Speaking on where the Ducks see him playing and the recruiting process in general he says, "I will be playing a mix of D end and OLB in passing situations most likely, but wherever they want me I'm good with". Henry added, "I met a lot of great people and created relationships with coaches that genuinely care about what's best for me… The final decision was tough turning down some great options, but in the end you have to choose what's right for your future."
He was selected to the prestigious "NIKE Opening" this past summer with teammate Joey Alfieri, an event held for the best of the best throughout the country. Mondeaux was also a standout on the Barton Camp and Combine Tour and at our elite events during the off season. His Crusaders currently sit at (10-2) with a legit shot of playing for a state title in 2 weeks, as they will meet Canby on Saturday at JELD WEN Field during the 6A state semifinals.
Henry is a kid that we will see playing on Saturday's and Sunday's for years to come. He is a class act on and off the field and someone that everyone in the Pacific Northwest can be proud of.