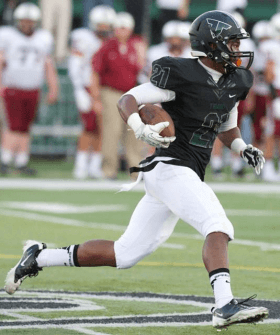 When referencing the top athletes in the Northwest for the 2015 class, one of the first names that comes to mind is Sam Inos (5-11 175 Jr.) of Tigard. He is ranked our #1 Safety and #2 Junior Slot state wide, making him one of the most appealing recruits in the region.
Inos showed his versatility in their recent dismantling of #6 North Medford (10-2) on the first two kickoffs of the game. He came down on each kick and lit up the returner, letting them know he would be around all night saying, "all day baby."
Sam is a class kid that just plays hard. He is serious about his business which is one of the main reasons the Tigers are (12-0) , never trailing a game this season. They will play #1 Central Catholic in the state semifinals this weekend, as this could very well be one of the best Tigard teams of all time.
He says, "I think this is a special year because we have leaders that are hungry." Inos added, "AJ Hotchkins, Manu Rasmussen, Jake Biglow, Daren Rodrigues, Jett Even and the senior's in general are all guys we look up to."
The junior standout has some of the "IT" factor and intangibles you can't teach. He was a second team all league WR and an honorable mention all conference safety, but those accolades don't speak to how talented he really is. Tigard is loaded at all positions, with playing time being spread around. If he was the primary ball carrier his numbers would be ridiculous.
Speaking on his goals moving forward he says, "I want to play football for as long as I can, hopefully at a big D1 school." He continued, "We have worked hard to get to where we are now, and I know I will be working hard every single day this off season to improve my skills." Expect to see Inos featured at our Elite Events and on the Barton Camp and Combine Tour over the off season, with a host of his talented teammates.
Central Catholic and Tigard are two of the better teams on the west coast and recognized nationally by most rankings services. Sam will be a kid that will need to step up big if the Tigers are going to get a state title, and beat maybe the best CC team ever assembled.
Check our broadcast next Saturday from Jeld Wen Field http://www.nfhsnetwork.com/channels/oregon for what many anticipate to be the game of the year. Inos will play a huge role as the talented junior is in my opinion one of the best players in Oregon.