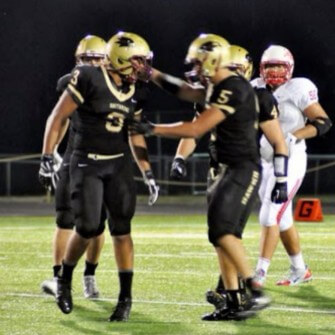 In the coming weeks the year will come to a close and we will transition into the off season. As we look at the state's top Junior's, Pepe Tanuvasa (6-1 215 LB) of Southridge will come back one of the Pacific Northwest's elite linebackers.
He comes from a football family, with his father (Mike) and two uncles playing D1 ball. He earned 2nd team All Metro Honors in 2013, while being one of the state leaders in total tackles. His dad played at the University of Hawaii, with his uncles playing at Utah and Idaho State.
Pepe brings a lot to the table that you can't teach, as his work ethic and overall training regimen are what separate him from his peers. " I have learned a ton from my family training with my dad since I was in the second grade, while working to increase speed, agility and quickness, all of which has helped me tremendously on the field". He continued, " My uncle Ben was an inside linebacker in college, and has been a huge resource for me… He checks in with me on a weekly basis as he is often at the games where after we review film, looking through the good and the bad and making the necessary adjustments."
Southridge (7-4) didn't have the year they were expecting, but Tanuvasa went off and was one of the best players in the Metro League. His ability to read and get in on almost every play was very apparent. 1st team all league safety and close friend Logan Sackley says, "Pepe is the best Junior linebacker in the state and I don't think its close."
Tanuvasa projects at the Division 1 level, but knows there is still a lot of work to do as he says, "My goal is to attend a school that will allow me to serve a full time mission as well as play football, and I'm excited to have an opportunity to achieve that". Pepe added, "My dad has taught me how to work hard in everything that I do, and instilled the belief that when I do so I can achieve anything… He has taught me the importance of having God in my life and I am truly grateful for that, as I can't imagine where I would be without him."
We will see the talented Junior backer over the off season, training with the other top athletes in the state through the Barton Football Academy. You will not find a LB in Oregon that has his combination of raw skill and off the field attributes saying, "Each week in order to prepare for the matchup, I watch film on the opposing team everyday for about an hour on my own, not including the amount of film that we watch as a team… I look for tendencies that the other team might have, and keys to getting off my blocks while putting myself in the situation that the linebacker is in."
It is this type of mindset that puts Pepe in a special category. He sports a 3.6 GPA and will be a Defensive Player of the Year favorite next season. Tanuvasa is an outstanding football player and an even better kid, and we will look forward to watching him in the year to come.