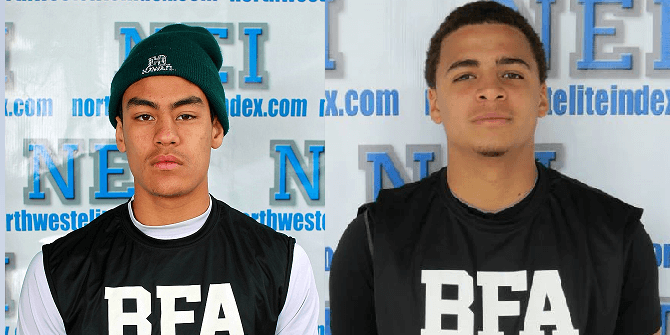 Saturday night quickly became the Cameron Scarlett and Ryan Nall show, but two other kids that have had 1st team All State type seasons resided on each sideline.
Zack Davis (6-0 175 Sr. WR) of Central Catholic earned 1st team all league honors, leading the team in every statistical category with 29 receptions, 549 receiving yards, and 9 TD's. The Rams (13-0) will play in next week's title game against Jesuit (11-2) in a rematch of the Holy War.
Davis averaged 19 yards a catch during the year and should be considered one of the top three senior receivers in the state. His dad played 4 years at OSU and Zack has come into his own in 2013. His off season play at our elite events and as part of our Las Vegas 7 on 7 travel squad were impressive, but what he has done this year is a testament to his upside.
He played behind two D1 kids in Lawrence Wilson (Princeton) and Beau Duronslet (Portland State) last season, and never quit grinding as Mt Hood Conference Player of the Year Aidan Wilder (QB) made him his favorite target. Prior to the matchup against Tigard, Zack said, "We are all excited and feel good about our preparation for the post season."
This was proven true as CC dismantled Tigard 83-49 on their way to the school's first state championship game in 60 years. Look for Davis as a potential X factor in the title game, as the Crusaders will be focused on the lethal pair of running backs.
His counterpart Daren Rodrigues (5-9 165 Sr. Slot/CB) of Tigard had one of the best seasons of any player in the Northwest, earning 1st team all league honors on offense, defense, and as a kick returner. He went for 900+ yards receiving and double digit TD's on the season.
Daren's versatility and ability to juke defenders make him one of the most exciting players in the region. Like many Tigard underclassmen he had to wait his turn behind some talented seniors, but took advantage once he got his opportunity. The season didn't end the way he wanted but he was hands down one of Oregon's top athletes in 2013.
Rodrigues isn't the biggest kid but he is legit collegiate level athlete. Referencing his breakout year he says, "I worked hard over the off season, but any success I had is because of my team". He continued, "Our lineman got the dirty work done and gave my boy Jett the time to deliver me the ball."
We will look forward to seeing each athlete play on Saturday's in the coming years, as both have established themselves as a top talent within the state.