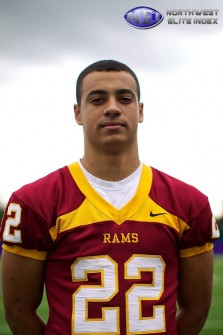 It will go down as one of the most impressive performances in Oregon High School Football history, as Central Catholic (13-0) came in and dismantled a very talented Tigard (12-1) team.
The Rams received record breaking performances from Oregon top Junior tailback Cameron Scarlett (6-1 205 Jr. RB) and Oregon State commit Ryan Nall (6-3 225 Sr. RB/LB), who are both considered two of the top athletes on the west coast. Give a lot of credit to head coach Steve Pyne and his staff who put together a phenomenal game plan that they executed.
The lop sided affair was unexpected as both teams were averaging 40+ point wins and allowing very few scores on defense. Scarlett rushed for 356 yards and 5 TD's (84,80,67,29,51) on 15 carries, while Nall did much of the same carrying the rock 14 times for 332 yards and 4 TD's (65, 79, 96 and 29).
Speaking on the 83-49 victory over Tigard Cam says, "We knew they were going to try and limit Ryan and I, but after my first touchdown I just had the mindset that no body can stop me… I felt like I was in the zone."
He continued, "As a team we had a good week of practice and I was just feeling good… The O line really handled their business, as all my success is a credit to them."
You can expect Scarlett to have a very busy off season as multiple D1's are expected to extend scholarship offers. He is one of the more talented backs to come out of the region in some time, but all he cares about right now is a title saying, "We will have to be really physical with Jesuit and have another good week of practice as we know they will come to play."
Speaking on Nall OSU can feel great about the commitment he gave them earlier in the year. It's extremely rare to see a kid his size out run everyone on the field. He is a future All Pac 12 type athlete that can play on either side of the ball at the highest level. I couldn't be more adamant when I say that the Beavers may have just gotten the steal of the year.
Referencing last night Nall says, "Our offensive line and perimeter guys did an amazing job of blocking for us, and once I saw the hole I just busted through". The Crusaders will be ready as you can expect the Rams to make the Jesuit defense prove itself, as Central Catholic won the battle earlier this year 45-31 at Cronin Field. Ryan added, "As for Jesuit we will watch a lot of film, make the necessary corrections, and see what they do different without Joey."
Central Catholic ended a 60 year streak of not advancing to a state final but no one is satisfied with just an appearance. Mt Hood Conference Player of the Year Aidan Wilder is the glue that makes everything go. and he once again referenced the big boys up front saying, "Our offensive line has come along so nicely… Every time I handed the ball off last night, we had about a 3 yard push on their defensive line."
Wilder added, "Its always tough to beat the same team twice, especially a school the caliber of Jesuit… That said we have gotten better each and every week and you can feel the bond between our players and coaches, we truly do love each other and play for one another."
There will be no love lost when Central Catholic and Jesuit meet next weekend for the 6A state title. Join us on ROOT Sports next Saturday at 1 PM for a rematch of the Holy War.