Click For Grant Williams Highlights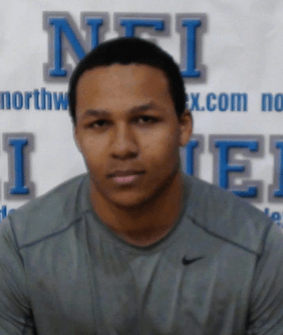 One of Washington's top linebackers in the 2015 is Grant Williams (6'2″ 240) of North Thurston High School in Lacey.
While the Rams (5-5) may have underachieved a bit this year as a team, Williams did more than his part while making a tough transition from the defensive line. He would finish the year with 90 tackles, five sacks and four forced fumbles. The leagues coaches took notice of his play and voted him first team All-Narrows 3A following the season.
"For my first time playing the position, I believe I transitioned pretty well. Once I got my keys down it was just about getting to the ball, which I had always been taught to do at Defensive End," Williams told NEI. "The Linebacker position has become a good fit for me due to my speed and physicality. I can definitely see myself excelling at the linebacker position during my senior year, and at the next level."
Williams is a player we got to know last offseason as one of the top pass rushing defensive ends, but it was evident he had the athleticism to play the linebacker spot. He is a two-way starter, also plays on the offensive line, and has since his sophomore season. He runs close to a 4.8 40-dash and continues to get faster as he adjusts.
Off the field Williams maintains a 3.5 GPA while taking a full schedule of Honors and AP courses. He is also an active member in North Thurston's Future Business Leaders of America program.
Ending the season early has motivated Williams and his teammates. "As a team, I have never seen a group of more motivated guys. Whether it is in the weight room or out on the turf I am always surrounded by fellow juniors and sophomores who are on the grind to get better because we know that the team expectation is playoffs; ending our season 5-5 did not cut it for any of us," he said.
Williams continues, "My training schedule throughout the winter involves a 2 hour lifting session and a 2.5 mile run every day, along with various speed and agility workouts throughout the week."
Right now recruiting is a little slow for Williams, having heard sparingly from the likes of Boise State and Washington State, but it will surely be picking up over the offseason.
"I'm going to have a busy winter and spring making contacts and making myself more visible to D1 programs, ultimately where I would like to play. I am already planning on unofficially visiting Washington State, Oregon State and Eastern Washington as well as attending camps," Williams said. "This past summer I toured the following campuses on unofficial visits; University of Washington, University of Oregon, UC Davis, Oregon State, and Stanford."
I look forward to following Williams through the offseason, as I believe he is one of the more underrated athletes in the state, and will be sure to keep you updated.