Click For Julius Yates-Brown Highlights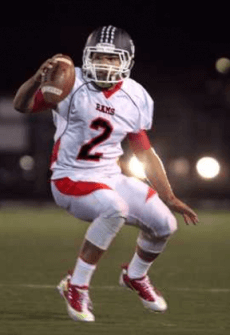 One of the top dual-threat quarterbacks in Washington's 2015 class is Julius Yates-Brown (6'0″ 195) of Wilson High School in Tacoma.
Finishing with over 1,800 All-Purpose yards and 30 total touchdowns, Yates-Brown was a second team 3A All-Narrows selection by the leagues coaches. This comes after a sophomore season that saw Yates-Brown carry the Rams to a 5-5 record while receiving an honorable mention.
The Rams finished the season 6-4, but Yates-Brown was unable to play the last few weeks. "Two games before playoffs I took a hit and my foot bent backwards and it caused me to tear a ligament in my foot," Yates-Brown told NEI. "I just had surgery 2 weeks ago and am getting ready to do physical therapy. This injury won't stop me from being in the weight room and studying film. I will be 100 percent before next season."
Wilson started the season 6-0, even making it into the NEI 3A Top Ten, but would lose their final four games. "Watching my teammates go compete was a feeling that I never want to feel again," he said. "My teammates are my family and watching them go to war without me is just a horrible feeling. I am the leader of the team and it was hard to see them out there without me being there to make sure everything was going good."
Yates-Brown continued, "All I could do is talk and coach them but I couldn't play for them. I give credit to everyone who stepped up and played because it takes heart to go out there and play in front of a big crowd especially in playoffs."
Next season the Rams lost over 3,000 All-Purpose yards when RB Isaiah Simpson and WR Brandon Montgomery graduate, but do bring back some very exciting options. Sophomore TE/DL AJ Ruffin (6'4″ 225) is one of the top two-way players state wide for the 2016 class, and should see increased opportunities on offense. Ruffin was Honorable Mention on offense and received 2nd team honors for his work on defense.
Another sophomore that should see increased playing time offensively is Darrien Rivera (5'11" 160). He was voted Honorable Mention as a defensive back, but with Simpson (Narrows Offensive MVP) moving on, Rivera is likely to step in with a chance to improve on this year's light offensive load.
Along the offensive and defensive lines, Wilson returns two Honorable Mentions players in OL Jack Springer ('15 6'1″ 281) and DL Billy Greer ('15 6'2″ 237). When you add in Honorable Mention LB Tanner Colburn ('16 6'1″ 230), you have a great core group of returning players to lead the Rams into the future.
Wilson HC Don Clegg just finished his 26th season at the helm of the Rams and is closing in on 150 career victories. The Rams were arguably the top program in Tacoma during the 1990's, and could very well be back on top next season.