Click For Kellen Strahm Highlights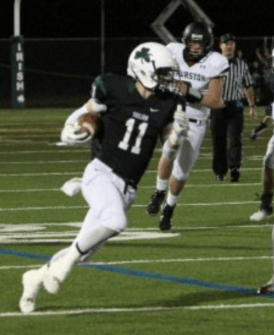 A kid you will hear a lot about over the next year is Kellen Strahm (6-0 180 Jr. Slot/CB) of Sheldon. He recently earned 1st team all league honors on both sides of the ball speaking to his upside.
Many are familiar with the last name as his brother Connor was Oregon's player of the year in 2012, torching the state for the last two seasons and going for over 5000 all purpose yards and 60 TD's. He is now a redshirt freshman at the University of Montana and all of 6-2 & 235 pounds.
Kellen is a lock down corner and a kid that most teams didn't even try to throw on. Offensively he caught 42 passes for 693 yards and 12 TD's (8 receiving), averaging 16.5 yards per catch through the second round of the playoffs. He is also one of the region's most dangerous return men taking four to the house during the season. The defending state champs were upset at home in the state quarterfinals by Canby 24-17, but this didn't take away from Strahm's impressive year.
Speaking on the season he says, "The coaches always had us ready, we just fell short and we take our hats off to them." As we have said time and time again Lane and Marty Johnson run one of the classiest and most successful programs in the country. Kellen was the only sophomore starter on the 2012 state championship team, and he will have to step up big next year as the Irish will be young and largely untested in comparison to the last few seasons.
Strahm is a 3 sport athlete much like his brother but his upside is what is most appealing. He is already one of the top players in the state, and could very well grow late much like his brother. Kellen will be a favorite for SWC Player of the Year honors next year on both sides of the ball, and it is possible that they could become the first brother combo to win the POY award offensively and defensively. Something basically unheard of.
Expect to see Kellen at our elite events and on the Barton Camp and Combine Tour during the off season. The Strahm's are a special group and the youngest is just getting started.