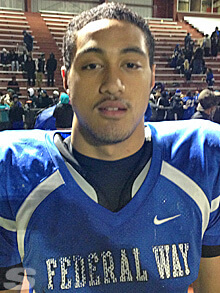 Federal Way made it all the way to the 4A State Semifinals and one player who is glad for the playoff run is LB Jared Pulu, one of the state's top 2015 prospects, who missed most of the regular season with a shoulder injury.
"In our first game, on kick coverage, I came down and just was in an awkward position and I separated my shoulder and tore my labrum," Pulu told Northewest Elite Index recently. "They told me I could have surgery, which would have made me miss playing until next year, so I chose to rehab it and it worked out because I healed up enough to play in our playoff games."
He had three sacks and a tipped pass that led to an interception that snuffed out a drive by Richland (Wa.) and helped the Eagles hold on and move on to the 4A state semifinals for the first time in 37 years where they fell to Chiawana last weekend.
Pulu finished the season with 25 tackles and four sacks in his three games.
"It was fun to get back out there with my teammates and be able to play, but it wasn't long enough," Pulu said. "I want to play more so next year is my last chance to do that for my team."
Both of Pulu's older brothers (Andru and Jordan) play at Eastern Washington and that is a school that has been in contact with the talented prospect as well as a few others including Washington, Washington State, Colorado and Boise State.
"I'm getting a lot of letters from schools, but right now, that's all it really is at this point," Pulu noted. "I'm probably going to hit a bunch of camps and stuff, but right now, we just ended our season, so I haven't really thought about it that much yet. I will talk to some people and get their thoughts on which camps I should attend and then I'll figure out a schedule."
At 6'4″ and weighing in at 225 pounds, Pulu said there are some plans for him to wind up playing defensive line next year because "I'm too big to play linebacker and I'm still growing," Pulu said.
We will continue to keep track of things with Pulu and will update news as it happens with him.