Click For DeShon Williams Highlights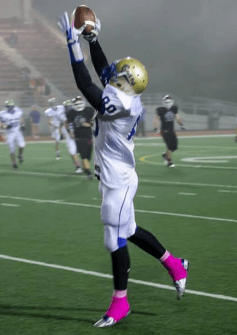 After leading his team to a 6-4 record and putting up monster numbers, Tahoma (Maple Valley, Wa.) WR DeShon Williams has turned his attention toward recruiting and he's got several FBS and FCS programs looking his way.
"I got offered by Wyoming back after my junior year, but with coach (Dave) Christiansen getting fired, I'm not really sure if that still is on the table or not," Williams told Northwest Elite Index recently. "I've been talking with Boise State, Washington, Eastern Washington, Idaho and Portland State too, but none of them have offered yet, so right now it's really just talking."
As a senior this fall, Williams finished up as the 4A SPSL's leading receiver after hauling in 62 receptions for 1,156 yards and 13 touchdowns and he was named to The News Tribune's All-Area team.
"It was an honor. I worked really hard on my deep route-running and feel that was a big thing for me and how I was able to help my team this season," Williams noted. "I probably fit into the big receiver role. I'm physical, but I can go down the field and get jump balls. I usually win those battles."
At 6'3″ and weighing 206 pounds, Williams is one of the bigger receivers available in the 2014 class. He's strong on the field as well as in the classroom and should see things start to pick up on the recruiting front in the coming weeks.