**Originally published in the Lynden Tribune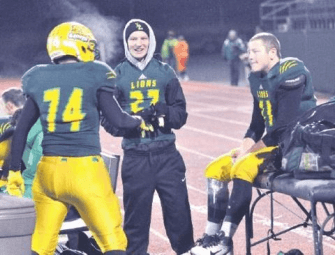 As Tristan Moffat walked across the turf at Civic Stadium in Bellingham Nov. 22, the Lynden sophomore looked as though he couldn't be happier. Enjoying every moment of Lynden's crushing 54-21 victory over Sumner in the 2A state quarterfinals, Moffat's enthusiasm grew with each play.
Dressed in his green Lions jersey, with a sweatshirt underneath and a Lions beanie over his head to stay warm, the 15-year-old Whatcom County native looked like he didn't have a worry in the world. He'd pace up and down the sidelines, joking around with his fellow teammates, looking on with intrigue as the Lions continued to put points on the board.
He looked like an average teenager. But that's something he hasn't felt since Labor Day weekend, when he received the earth-rattling news that he has cancer. In talking with Moffat, though, you wouldn't think he was suffering from a life-threatening condition. His cheerful demeanor can light up a room.
He's a joy to be around.
And he said a big reason he's able to stay upbeat and push forward with his diagnosis starts with all the support he's received from friends, family and other members of the Lynden community.
A whirlwind for the Moffats
It was supposed to be a regular Friday for the Moffat family, Tristan's mom Denise said. Both Tristan and his older brother, Jared, 17, were supposed to go to football practice and then come home and take it easy before playing in a scrimmage the next day.
However, a stop by the family doctor's office that Friday was a must. Tristan had been complaining of some soreness in his abdomen and he noticed he had lost his appetite.
"At first I thought it was just soreness from going intertubing over the summer," Tristan said. "Then I noticed a lump and at first, I really didn't think much of it. But then I couldn't really eat and I started getting a lot of side aches. It got me worried, so I thought maybe it was time to go to the doctor."
Later that night, the Moffats got a call and returned to the doctor's office. Some time passed by and Denise and her husband Marc waited for some news to be delivered. After all, they had a scrimmage to attend the next day.
It was 2:30 in the morning, Marc recalled, and the family got the news.
"Your son has cancer," the doctors told Marc and Denise.
Moments later, Marc, Denise and Tristan hopped in the family car and headed for Seattle.
"It was kind of a whirlwind for us," Marc said. "We packed our things as quickly as we could and the doctors told us we'd be in Seattle for at least a week. They had been in contact with some people at Children's Hospital and told Denise and I that they were expecting us.
"It was definitely a surprise. I think we had a short time to mourn, if that's what you want to call it, but then after that, we went right in and said let's do what we need to do and fight this thing one step at a time."
Tristan's official diagnosis was a combination tumor that's benign and malignant in his abdomen.
"It seems like this kind of thing happens to other people, but you never really think it could happen to you," Tristan said. "I never thought it could happen to me."
Pushing forward through tough times
There's no question Tristan's life has changed since he found out the news he had cancer. Rather than spending his days at Lynden High School with the rest of his sophomore classmates, the young man now resides primarily in Seattle, bouncing back and forth between Seattle's Children's Hospital and the Ronald McDonald House.
The same can be said for both Denise and Marc. At least one of Tristan's parents is with him at all times, Denise said, while the other stays at home in Lynden with Jared. Denise works as a para-educator at Bernice Vossbeck Elementary School, while Marc is a driver for UPS.
"Fortunately, our employers have been very supportive of us and have provided plenty of time off so we can be with him (Tristan)," Denise said. "We've actually been very blessed to have support from all kinds of directions."
For Tristan, all the support he's received has meant the world to him, and a lot of it has come from his Lion peers.
Being about two hours away from all of his buddies in Seattle, social media sites such as Facebook and Instagram have been great ways for him and his friends to stay in touch.
There's also much more the Lynden students have done for him, which brings a smile to his face when he talks about it.
"Well, I remember the volleyball team decorated my room and when I came home and saw that, I thought it was pretty cool," Tristan said. "My teammates have sent me a lot of cards in the mail and we've gotten a lot of help from different fundraisers and gift baskets."
Perhaps one of the biggest showings of support Moffat received came the week of the Ferndale game (Oct. 25), though. Moffat was able to return to Lynden that week for three days of school and he was in for quite a surprise the second he walked on campus. Countless Lynden football players had shaved their heads in honor of Tristan. It's something that meant a lot to him and his family.
"A lot of my friends said they would do that before the Ferndale game, but I didn't really think many of them would," Tristan said. "When they started doing it, other people followed and I think there were 30 people in total who did it. That was special for me."
At that time, Tristan was waiting for his blood level to rise to a level that would allow him to come back home for a few days and go to school. That's when his teammates surprised him by shaving their heads, to showcase their support for him," Marc added.
"When they knew Tristan was coming back on such and such date, I think that's when the kids decided to do it. It was their way of welcoming him back."
Lynden coach Curt Kramme said he was just happy his guys could bring some joy into Tristan's life.
"I recall for that Ferndale game, he was there on the field and a bunch of guys had done that (shaved their head) for him," Kramme said. "I have no idea what it's like for him and I can only imagine. If there's anything we can do to help put a big smile on his face, it's something we enjoy and I'm grateful for those opportunities."
The comeback trail begins
As the clock hit zeroes across the board following the Sumner game and Lynden had officially advanced to the 2A state semifinals, Tristan joined the celebrations at midfield. He was back with his team and it never felt better.
Being stuck in Seattle, Moffat has only been able to see a handful of Lynden's games. On Friday nights this fall, he's usually huddled up with his mom or dad at the hospital next to a radio to listen in on how the Lions are doing. This was the case for Lynden's semifinal game against Ellensburg, a contest that the Lions came out on top of 21-7, reaching the 2A state championship for the third consecutive season.
With the championship set for 10 a.m. on Saturday at the Tacoma Dome, against Tumwater, Tristan will make the trek from Seattle to see if his Lynden teammates can complete a perfect 14-0 season and earn another state title trophy.
"It's always something to look forward to," Tristan said. "Being in Seattle, I've really only been able to listen to the radio. Actually being at the game and talking with my teammates and congratulating them after the win felt a whole lot better."
It's all motivating for Tristan, who said he has every intention of suiting up for the Lions next season. First, though, he must get healthy and that progress has already started.
Moffat began his final three weeks of chemotherapy last Monday, which leads to surgery on Dec. 27 to remove the tumor.
"There's been progress," Denise said. "We're thankful for that. Now, he'll have the surgery and hopefully we'll be all done after that. The doctors will do some scans and blood tests and we'll know more about a week or two later."
Shortly after surgery, Tristan already has big plans in mind. This includes getting back into the weight room and getting ready to suit up for the football team in 2014.
"I'm looking forward to that challenge," Moffat said. "I definitely want to get back on the field and play for Lynden. Not being able to play this year was disappointing, so this offseason I want to work hard, work out, gain weight and try and get back."
Since his cancer diagnosis, Moffat has lost between 15 and 20 pounds. He said he plans on putting all that weight back on before the start of the year. He currently checks in at 6-0, 145 pounds and hopes to play both wide receiver and defensive back.
For Jared, having his brother return to the field is also something he looks forward to.
"I think we both have pretty good opportunities to play a lot next season," Jared said. "I've never really played with him. This was going to be our first year, but it didn't really work out. Next year will be fun, though, and it will be a great opportunity for us."
When asked if he'll give his brother a nice shot during the first day of practices next season, Jared didn't hesitate with his answer.
"Oh, definitely, I'll welcome him back with a nice hit," he said with a laugh.
But before all those plans can come to fruition, Tristan must win the fight he currently has in front of him. The surgery on Dec. 27 will be the first big test and it's something he enters with a winning attitude.
"I'm planning on beating it," Tristan said with a smile. "I'm really hoping everything works out."
So does the rest of the Lynden community.
And when Saturday's title game does roll around, you can expect to see Tristan with a jubilant look on his face, cheering on his teammates from the Lion sidelines. It's where he looks forward to being, but more importantly, where he belongs.