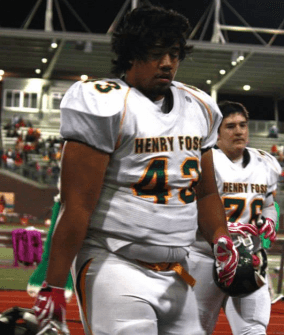 In the past, Foss (Tacoma, Wash.) High School has struggled to produce good teams and prospects, but this past season, the Falcons went 5-5 and one of the biggest reasons was the play of DT Patiole Pesefea who has committed to play football at Eastern Washington next fall.
"I committed to Eastern about a month ago," Pesefea told Northwest Elite Index recently. "They offered me a while ago and I have gone there for camp and then to a couple of games this year and I just loved it there. I love the staff and the program they have there."
In addition to his offer from Easter, the 6'2″, 285-pounder also was getting attention from other Big Sky, WAC and Mountain West programs.
As a senior this past season, Pesefea used his quick feet, size and natural strength to post 55 tackles and seven sacks and was named the Narrows 3A Defensive Player of the Year while helping to lead his team to a 5-5 record.
"We set out this year to change the image of our program and our school this year," Pesefea said. "No one took us seriously. We sorta had this image as a 'thug' program and I think we changed that. Our guys worked hard and we played hard, but we were respectful and I think that will carry over to the classes that follow mine."
Pesefea plans to officially visit Eastern Washington on January 10th and then will sign with the Eagles on February 5th.