Click For Willy Pflug Highlights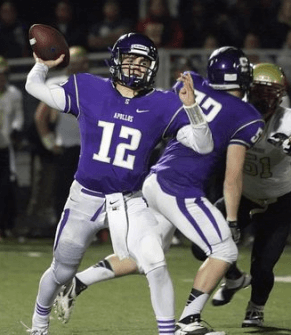 As we move into 2014 we take a look at some of the top underclassmen returning next season. One of the first names that comes to mind is Sunset Jr QB Willy Pflug (6-0 175). Time and time again the quarterback kept his team in ball games, ultimately having an all state type season.
Pflug was the 6A state leader in accuracy (72.9%) and TD passes (27) during the regular season, while also leading the Metro in total Td's (33) and yard's (2,496). He earned 1st team all league honors helping the Apollos go (7-3), before taking an early first round exit to an always tough Lake Oswego team.
Willy comes from a football family with his dad being a collegiate quarterback, showing unique intangibles that can't be taught over the season. His ability to read and elude defenders became the norm playing for one of the state's all time great coaches in Faustin Riley.
Pflug embraced his role early on in his career starting as a sophomore, and earning 2nd team all league accolades in what is traditionally Oregon's toughest conference. His success from a young age and his ability to make everyone around him better are specifics that stick out.
Speaking on the season he says, "Outside of Jeff (Bieber) we had a lot of guys who didn't have much experience step up over the course of the season such as Michael Kerns, Matt Burton, and Kasey Porter". He continued, "We didn't get as far as we wanted to but we fought hard all season and played pretty close to a good LO team."
Bieber was one of Oregon's top wide outs, but Willy got everyone else involved which was a testament to his role as the team leader. Pflug finished the year with 35 total TD's (29 passing, 6 rushing), hitting on 185-259 (71.4%) passes for 2,837 total yards.
Willy is a kid that we will look forward to seeing over the off season as he has upped his stock a great deal. He made significant strides over the year, and has put himself in the conversation with some of the other D1 projected QB's from the 2015 class.