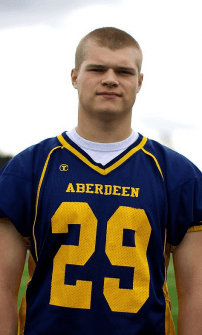 Washington State continues to do good work on the recruiting end, as Mike Leach and his staff extended an offer to one of the nation's top sophomore LB's last week.
Joel Dublanko (6-3 220) of Aberdeen HS is a kid we have gotten to know well and the Cougars seemed to like what he brought to the table. Dublanko currently holds four offers including from the SEC in Mississippi State. He has been ranked as high as the #2 LB in the country for the 2016 class and is only getting better.
You would be hard pressed to find a more well rounded and humble kid as he referenced his early experiences with the Cougar staff, "Coach Wilson is my type of coach..A high energy guy that seems to really want me to come to WSU and play for him". He added, "We also met with Coach Leach and spent lots of time after camp with Coach Yost during the summer."
Linebacker Coach Ken Wilson has quickly become one of the more respected and talked about assistants in all of the Pac 12 as Joel says, "I'm pretty excited about it because it was my first Pac 12 offer and I feel a great connection with Coach Wilson". Joel continued, "I got to watch him first hand as he is a real players coach and someone that I could see myself playing for, although the recruiting process has a long ways to go."
You can expect to see Joel offered by Most Pac 12 schools and variety of other top programs from around the country. He is a special athlete and an even better kid, and someone that we will see on the Barton Camp and Combine tour over the off season. We congratulate Dublanko on another big offer and we will keep you updated as things progress.