Click For Braiden Beckman Highlights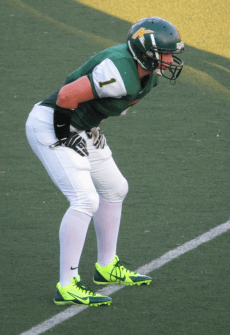 While the Kentridge Chargers struggled on the field, one major bright spot was the play of 2015 LB Braiden Beckman (6'2″ 227).
Beckman finished the season with 148 tackles (new school record), three forced fumbles, two fumble recoveries, two INTs, one and a half sacks, and one defensive TD. His total tackles were tops in the SPSL and good for third overall in the state. For his efforts, Beckman was awarded first team All-SPSL by the league's coaches.
"I was really pleased to be selected first team. It was one of my personal goals for the season and I worked hard in the off-season to improve my speed and agility and to become a better player," Beckman told NEI. "When the season started I focused on helping the team win in any way possible and in every game that inspired me to do my best. It resulted in my improved performance over last year. That said though, it would have been fun to have more success as a team and I'm looking forward to team success next year."
The Chargers should be one of the SPSL North's more improved teams next season, as they played mostly underclassmen and will return 18 of 22 starters. Kentridge Head Coach Marty Osborn is the longest tenured coach in the SPSL North, and will surely have his team ready to go.
"Coach Osborn has emphasized that winning starts in the off-season with a focus on the weight room and team unity," Beckman said. "This is where my focus will be and I will be strongly encouraging my teammates to do the same. Beyond improving our performance, my goal is that the team have a winning season and make it into the play-offs. My teammates are showing a drive and desire to be great that I haven't seen in the last two years and I am excited for the season to start."
Beckman also plays basketball for Kentridge and was also voted by the team to be one of three Juniors on Kentridge's Football Unity Council, which partnered with the Captains, who can only be seniors, to promote team unity and commitment. He also manages to maintain a 3.2 GPA while taking multiple honors and AP courses.
Hard work is some Beckman prides himself on. He is a member of the "900 Club" at Kentridge, which consists of totaling his numbers in the bench press (305), clean (250) and squat (390). Just days after the season was over, Beckman was already talking about attending Barton Football Academy Elite Events and working with highly touted speed and strength coach James Laurence of Legerity Sports Performance.
"Braiden is a great athlete with a huge upside. He's been deliberate in increasing the range of motion in his hips along with becoming more nimble on his feet," Laurence said of Beckman. "The 2013 season he had is attributed to his work ethic and competitiveness on and off the field. Braiden will improve during the 2014 off-season in his ability to be fluid in transitional movements while continuing to increase his mobility and all around power."
We are currently going through our 2015 player rankings for Washington. With great all-around ability and a work ethic second to none, you will surely see Beckman towards the top of the LB portion when they are released.