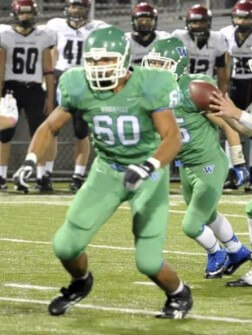 It wasn't until recently that Woodinville (Wash.) OT Andre Dillard picked up his only Pac 12 offer, but shortly after the weekend, he decided he had waited long enough and decided to commit to Washington State.
"I verbally committed to WSU," Dillard said via social media. "Gonna play for the Cougs!"
Dillard chose the Cougars over offers from Idaho, Eastern Washington and Portland State.
"They want me to play tackle for them," Dillard told Northwest Elite Index recently. "They like my feet and my quickness and how I do things. They think I can be a great fit in their system."
Dillard was a two-way star for Woodinville the past two seasons and was a team captain, something that attracted the Cougar coaching staff to him.
"I think my leadership was a really big thing for them," Dillard said. "They look for guys that are leaders and that was a role I played this year just getting my teammates focused and ready to go and keeping us pointed in the right direction."
Dillard has not scheduled his official visit to Pullman yet, but the plan is for him to take that in January and then sign with the Cougars on February 5th when all seniors can start signing with the college of their choice.
——–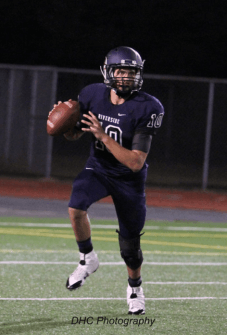 Since the end of his senior season, Auburn (Wash.) Riverside QB Kevin Thomson has turned his focus toward his future and that meant looking at the schools courting him to play for them. He had several offers, but after visiting UNLV recently, he decided he'd seen enough and committed to the Rebels on Monday.
"I actually made the commitment to them last night," Thomson told Northwest Elite Index on Tuesday. "It was everything there…from the coaching staff, to the direction of the program, to the players and the system they run and the school is exactly what I am looking for from an academic standpoint, so it was just a perfect fit for me."
Thomson chose UNLV over offers from New Mexico State and Idaho and he was getting attention from a couple of other Mountain West programs.
This year, Thomson led the Ravens to a 7-3 record and a berth in the playoffs by throwing for 1,656 yards with 15 touchdowns and seven interceptions. He also rushed for 553 yards and nine more scores.
"He's got the ability to hurt you with his arm or his legs," Auburn Riverside head coach Bryant Thomas said earlier this season. "He's a great leader and I think he'll really excel at the next level because he works hard and is a quick learner."
Thomson is a good athlete and at 6'3″ and 180 pounds, he's got the frame to add at least 20 more pounds. He can be a dual-threat quarterback, but he's at his best dropping back and making plays with his legs when things break down.
He plans to sign with UNLV in February and will enroll there in the summer.