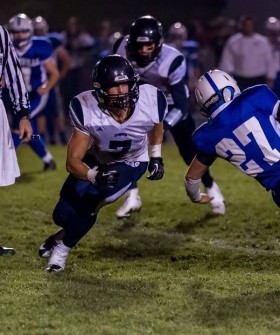 Even though he plays at a small school, there is no denying that Cascade Christian (Puyallup) ATH Mason Tobeck is one 2015 prospect to keep an eye on after he was named the 1A Nisqually Defensive Player of the Year.
Tobeck, who already was an All-league tight end prospect, was named First Team-All League as a linebacker after totaling 100 stops (64 solo), 10 tackles-for-loss and eight sacks while also totaling 26 receptions 493 yards and nine touchdowns, helped lead the Cougars to an 11-1 record and a berth in the state playoffs that ended in with a 31-28 loss to Mt. Baker in the semi-finals.
"I can play on both sides of the ball. I just love playing football, but I think I'm probably better on defense," Tobeck told Northwest Elite Index following the completion of his season. "I'm probably better against the run. I like to attack the line-of-scrimmage. I rush the quarterback pretty well too.
"I still have a lot to work on. I need to get stronger and also work on my speed and my footwork. You always have to keep getting better so there's still a lot to work on."
He was named a team captain and saw himself as a leader on his team.
"We have a real close-knit group. We've been together for a while and we're like a family and that really helped us bond together, come together and make a run and I think we can do it again my senior year," Tobeck noted.
Tobeck comes from great bloodlines, his father Robbie, played football at Washington State and was a starter with both the Atlanta Falcons and Seattle Seahawks during a 14-year NFL career.
"My dad keeps me grounded and always encourages me," Tobeck said. "He doesn't push me to do anything I don't want to do, but he always wants what is best for me and he's always real supportive and is there when I need him to be."
As far as recruiting is concerned, it's really early in the process for Tobeck, but he's been getting some letters from schools and said he's planning on hitting some camps.
"I get a lot of letters and information on camps," Tobeck said. "Like Pittsburgh and Bucknell and Miami. It's just letters and info. Not a lot of recruiting stuff that is personalized."
At 6'2″ and 200 pounds and with his athleticism, Tobeck is a player to keep an eye on over the next 14 months as he begins the recruiting process. NEI will continue to keep track of his progress and we will update things as they happen with him.