Click For Gunnar Amos Highlights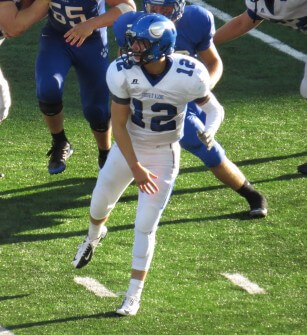 One of the top QB recruits in northwest is Coeur d'Alene (Ida.) senior Gunnar Amos (6'1″ 195). He currently sits at four offers (Army, Idaho, Idaho State and Weber State), while recovering from a season ending injury he occurred during the state playoffs.
The Coeur d'Alene Vikings have won three of the last four 5A State Championships in the state of Idaho, but this year may have been the toughest yet. In October it was announced that head coach Shawn Amos, Gunnar's dad, had been diagnosed with Hodgkin's Lymphoma. Shortly after his dad's revelation, Gunnar suffered a concussion against cross-town rival Lake City.
Gunnar's season came to an end a few weeks later when, in the first round of the playoffs, he broke his fibula and the back of his ankle. "Both these injuries were very hard & still are very hard for me. I had been preparing & looking forward to those last games of my senior year & leading my team to the state championship," Amos told NEI. "I love the game so much and wanted to win with my dad, my coach, so badly so that I still had to be involved and be a vocal leader and mentor for my backup Austin Lee, who played outstanding by the way."
Watching his teammates go for a state championship would be tough for Amos. "I would be lying to you if I told you it still wasn't so hard for me to be watching not playing". He continued, "I have the best guys on me team I could ask for. They all worked so hard for this for so long, and we all had been dreaming about this since we were very young and we did it."
The 2013 season was rough all around for the Vikings. They started the season with a win on the road over West Linn (Ore.), but would lose the next three games against high caliber teams, Bothell (Wash.), Skyline (Wash.) and the Highland (Pocatello, Ida.) Rams, a team they would beat in the state final.
"Coming out of those three losses in a row was tough, because we felt like we were better & should have won those games," Amos said. "After that, the only game we didn't win by 20 or more was again to Highland in the state championship."
Amos is a bit of a dual-threat QB. He finished the season with 214 rushing yards, with 4.12 yards per carry, and 10 TDs, but it's his 2,284 and 19 TDs that are the real focus in the Viking offense. Amos runs a 4.55 40-yard dash, so you could say his legs may have been underutilized this season. Gunnar also sports a 3.68 GPA and scored a 1650 on the SAT.
When it comes to recruiting, Amos has the four who have offered, but there might be one that stands out a little more than the others. "I definitely think Idaho has an advantage in recruiting me. My dad played there, my dad's dad worked there an went there and my mom went there. My whole family went to Idaho or the Naval Academy. So yes, Idaho does have an advantage but I'm still keeping my options open," Amos noted. "I also visited Weber State this last summer and loved it. The buildings are all brand new and I loved the coaches, but their staff just got fired, so I'm kinda in the dark right now with them."
From the first time I saw him play, to meeting him at the Eastern Washington QB camp last summer, to getting the info for this article, Gunnar has always been a class act. Whichever schools ends up landing Amos is getting a quality young man, one heck of a football player, and a leader that help any team.