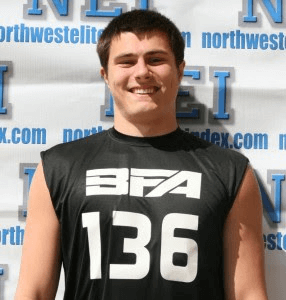 Last year's #1 ranked TE in the State of Oregon was Wyatt Houston (6-5 245) of 3A Horizon Christian. He is now starting for the Aggies of Utah State (8-5) who are one of the fastest rising collegiate programs in the country. They are headed to the Poinsettia Bowl to play #24 Northern Illinois on December 26th in San Diego.
Houston was initially going to redshirt, but was activated due to injuries in week six starting every game since. He has caught 6 passes for 107 yards and 2 TD's on the season thus far, with his upside being off the charts. Referencing the year Wyatt says, " This season has been really good for me, as there has been a big learning curve especially in the blocking game and just the change of D1 football, with meetings, lifts, and game speed."
He played the QB position for the small school out of Tualatin from 2010-2012, after being an all league WR at West Linn as a freshman. You won't find a much more humble and hard working individual as he is one of the classier kids we have ever come across.
Houston was an MVP on the Barton Camp and Combine tour, but really proved himself on a whirlwind summer full of college visits prior to his senior year. He is starting at the Y position for the Aggies, and could realistically be one of the top ranked TE's in the country in the coming years with continued progression.
Speaking more on his breakout year Wyatt says, "They pulled my redshirt the week of New Mexico and I now have 6 games under my belt, with one more coming in the Poinsettia Bowl."
Give a lot of credit to Utah State as they took a chance on a kid that played the QB position for most of his high school career, and has come in and been one of the better freshman in the conference. You would be hard pressed to find a tougher and more focused kid, and we will look forward to bringing you updates on the Northwest talent as his career continues.