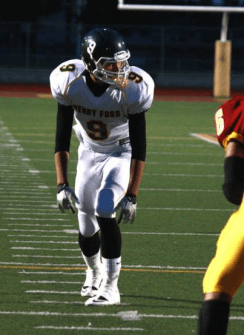 A 2015 prospect to keep an eye on this spring and summer is Foss (Tacoma, Wa.) WR/DB Chris Reynolds. After a solid junior season he promises to be one of the top playmakers in the South Sound in the fall of 2014.
Reynolds finished the season with a team-leading 25 receptions for 366 yards and five scores on offense while also posting 25 ackles and five interceptions on defense, helping to lead his team to a 5-5 record.
"Honestly, I thought we were a better team than how we finished in our record," Reynolds admitted to Northwest Elite Index. "We had some penalties and we made some mistakes in close games, we lost a couple of games to good teams by less than a touchdown, that I think cost us the chance to win, so while I was happy with how we played for the most part, I think we could have been better."
As one of the leaders returning in 2014, Reynolds said he and the rest of the upper-classmen are focused on getting better this offseason.
"We want to play in the playoffs and to continue to get better as a program," Reynolds noted. "We have some talent here and we lose some good players, but I think we have some pretty good guys coming up that are younger that should help us keep going.
"My class, the class of 2015, we need to be leaders and show these young guys that this is a new program and we want to take this to the next level."
As far as recruiting is concerned, the two-way star said he's been receiving letters and hopes that things pick up this spring.
"I've been getting letters from Arizona at least twice a day and I've been hearing from Boise State and Eastern (Washington) too," Reynolds said. "I think things will probably pick up during the spring, so that's sorta when I will start to take things a little more seriously."
Reynolds said that he plans to take in camps this summer, but has not even begun to think about which schools he will hit.
The junior is a standout on the basketball court as well as the track team, so he's a great athlete and at 6'3″ and 190 pounds with 4.6 speed, he's definitely going to see schools from all different levels coming by to see him this spring.