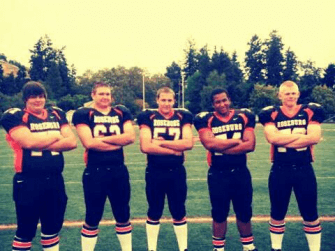 If we are talking about a tradition rich football school one of the first programs that comes to mind is Roseburg. Head coach Thurman Bell will go down as one of the all time greats and he's not done yet.
The Indians will return a host of all league kids from this year's team in 2014 and look to use the veteran leadership on the line to their advantage. They have gone (39-19) over the last 5 years but more importantly always have the support of the community behind them. Bell has won four state titles ('81, '90-Co, '95, '96) while at Roseburg, including back to back in 1995 & 96.
The 1996 squad is considered by many to be the best team to ever come out of Oregon, so the expectations are still high 17 years later. They started hot this year going (5-0), but ran into a tough SWC schedule dropping five of their last six, and finishing (6-5).
Expect to see the line be the strength with Jake Snyder (5-11 210 Jr. DL) earning 1st team all league honors, and two other three year starters returning in Isaiah Smith (6-0 260 Jr. OL/DL) and Shon Atterbury (6-3 290 Jr. T). Smith earned 2nd team all league honors on both sides of the ball and Atterbury had an outstanding off season.
Zack Caddock (6-2 240 Jr. OL/DL) is the other lineman that stepped up big earning honorable mention all league accolades on both sides of the ball.
Referencing his teammates and the talent they have coming back Isaiah says, "Shon comes back one of our leaders, with a big body, experience, and lots of intensity". He continued, "Zack Caddock will be another three year letterman who works his butt off and leads by example, while Jake Snyder had an awesome year and loves to hit."
Isaiah is a team leader and a kid that will need to have a monster 2014 campaign to challenge for a league title. He will be considered a conference lineman of the year candidate and one of the top two way threats down South. North Medford will be the SWC favorite with Sheldon and a surging Grants Pass team also getting in the mix.
Jesse Webb (6-1 200 Jr. DL/RB) and Isaac Hartwick (6-1 175 Jr. TE) are two other kids that earned honorable mention all league honors and will be key next season with this very talented 2015 class.
Other individuals that you will see include Alex Goirigolzarri (5-9 170 Jr. RB/LB), Aidan McGowan (5-10 195 Jr. FB/MLB), Zack Woods (5-6 135 Jr. CB), and QB Noah Avery (6-2 190 Jr.) who is a talented athlete and a featured member of next year's senior group. Someone will have to make up for the likes of 5-6 1st team all league & SWC leading rusher Levi Holden who had a phenomenal 2013 season.
In closing Isaiah says, "The best thing about next years team is that we don't have any big egos, were just a bunch of guys that like to go out there and beat up on each other to get ready for Friday."
It will be another good group led by one of the best coaches the Northwest has ever known. We look forward to seeing some of the Roseburg kids over the off season and will keep you updated as things progress.