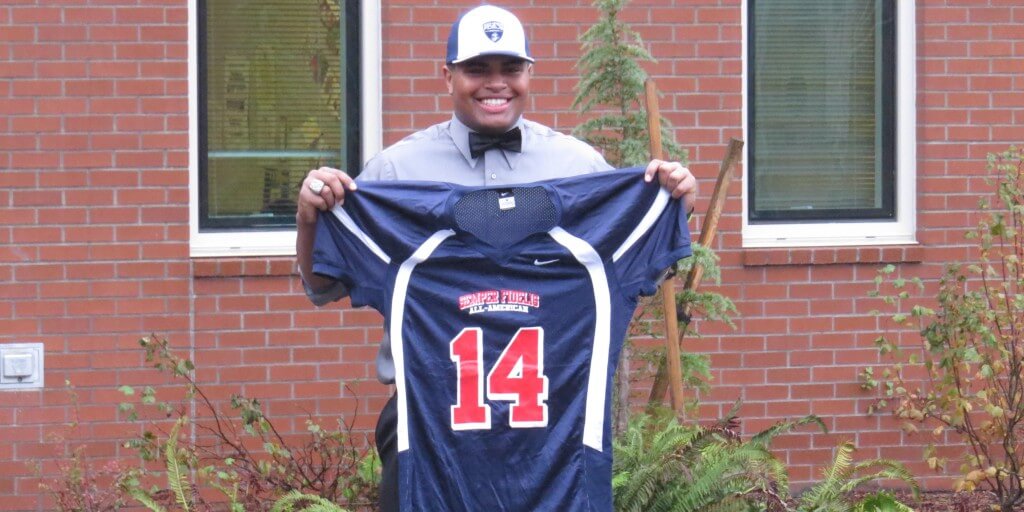 As football in the Pacific Northwest continues to get bigger and bigger, many of our athletes are beginning to receive national attention. On Friday afternoon, Bellevue DT Marcus Griffin was presented with a jersey signifying his selection to the 2014 Semper Fidelis All-American game.
Griffin is the sixth player from the state of Washington to be selected in the three years this prestigious event has been played, and this year's lone representative.
The 2014 version will take place January 5th, at the StubHub Center in Carson, California. The game is a culmination of a six-day event, that includes practices, other team building activities and a Los Angeles Clippers game.
The last 12 months have been kind of a whirlwind for Griffin. This time last year he was celebrating Bellevue's fifth-straight state championship, but was still without an offer. As the offseason progressed and Griffin MVP'd one camp after another, he began to pick up offers and invitations to national events, including Nike's The Opening.
Now, at the end of his undefeated high school career, Marcus is sitting on nine scholarship offers, from up and down the West Coast. He is currently on an official visit in Pullman at Washington State, and has a visit planned for Cal-Berkley on January 17th.
At NEI, we are honored to be part of events as big as these. We are big fans of Marcus, and the entire Griffin family. We wish Marcus the best of luck in everything life brings him.