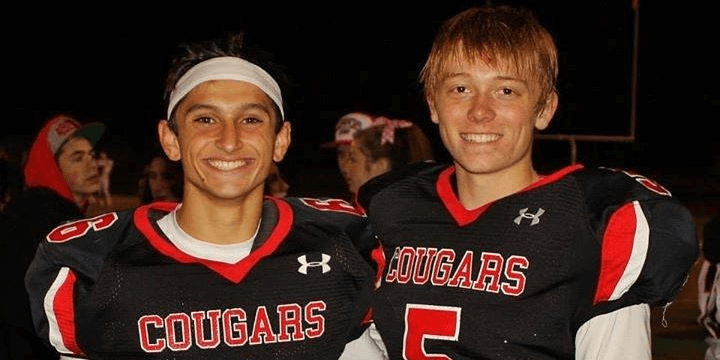 Year in and year out a team that continues to be one of the best at the 5A level within the state of Oregon is the Mountain View Cougars. Head Coach Brian Crum is one of the more respected football minds in the Northwest and next year's group has a legit shot of challenging for a state title. Sherwood and West Albany will make the transition up to 6A which will open the door for multiple schools.
Mountain View has been one of the top programs in the state over the last decade, winning the 2011 state title and graduating the likes of Oregon St LB Joel Skotte, and the Hollister brothers (Jacob & Cody) who both have recently received big time D1 offers.
The Cougars went (8-3) this past season, losing in the Quarterfinal round of the state playoffs to Silverton. They will return a host of all league athletes who should contribute a great deal next year. Cody Anthony (6-2 215 Jr. QB/RB) will be a kid that will get his opportunity at the quarterback position, after a successful 2nd half of the year at RB. Anthony carried the ball 83 times for 487 yards and 7 TD's, averaging 5.9 yards per carry.
Caleb Tatum (6-4 185 Jr. QB) is another very talented kid that will get a chance to compete at the position, after being injured for part of 2013. Both kids played behind 1st team all league QB Conor Nehl (6-2 185 Sr.) and fellow senior Blake Knirk (6-2 195 Sr.) who each did a very good job on the year.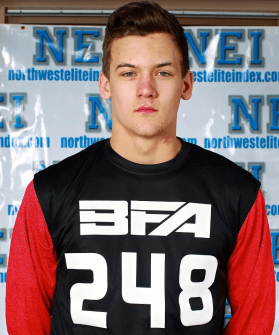 You can expect Joe Van Kessel (6-1 185 Jr.) to step up as the primary RB after being hurt for most of 2013, with one of the teams top overall athlete's Zach Ferguson (5-9 200 Jr. RB/LB) returning after earning 1st team all league honors at backer and 2nd team at RB. Coach says, "Joe broke his collar bone early and then repeated the injury after returning and doing very well". Crum added, "Zach had maybe the best season of anyone and was just all over the field."
The X factor could come in the way of 6-4 and 6-5 WR's Dantly Wilcox and Austin Albin. Wilcox had an outstanding year catching 29 passes for 338 yards and 4 TD's, while Albin was another kid that struggled with injuries, but could very well be one of the best receivers in the entire Northwest next season. Coach says, "If we are talking about the fastest kid on the field in a dead sprint it might be Dantly, and Austin has an incredible upside as he can go up and get it as well as anyone."
Both kids are ranked as two of our top 10 receivers state wide. You can expect each of them to have very productive seasons, as 1st team all league receiver Nick Hjelm (6-3 180 Sr.) graduates after catching 53 passes for 844 yards and 11 TD's.
As impressive as the offense is shaping up to be the defense could be just as good. The Klein family has tremendous athletes up and down the board, with Ben Klein (5-9 200 Jr. OL/LB) being a two way standout and 2nd team all league athlete on both sides of the ball. He led the team in total tackles (87) and tackles for loss (18.5). Spencer Klein (5-9 190 Fr. LB/RB) started as a freshman, and will be part of a talented 2017 class where 3 or 4 sophomores could get significant playing time next season.
The Cougar secondary could very well be the best in the state at the 5A level with three legit all league kids returning. Derek Ostrom (6-2 170 Jr. S) had a breakout season grabbing 1st team all league accolades. You can expect Ostrom to jump up our rankings board, while fellow safety Anthony Rushton (6-1 180 Jr. S) had an equally impressive year making 54 total tackles, after earning 2nd team all league honors as a sophomore.
Chris Adamo (5-11 160 Jr. CB) has been one of the most impressive corners in the state, leading the team in pass deflections with 9 and being a 2nd team all league kid. Another name to remember will be Reed Dickson (DB) who is your typical dual threat football and ballet kid. Coach says, "He's got some of the best feet of any athlete we have had here."
Last but not least are the backers where B.Klein (87 tackles), Ferguson (86 tackles), and Joe Hagenbach (5-11 200 Jr. LB) will be back. Hagenbach went off this past season, grabbing 2nd team all league accolades and leading the conference in sacks with 10, while adding 16 tackles for loss. Michael Sutterfield (5-9 190 Jr.) was also a 2nd team all league backer.
In summary Mountain View is loaded next season and will be an unquestioned top team in Oregon. We are big advocates of Coach Crum and his program and always look forward to our annual trip to Bend. We hope to see some of the Cougar athletes at our Elite Events in Portland in the coming months, and look forward to what the future holds for this talented 5A group.