Click For Dane Warp Highlights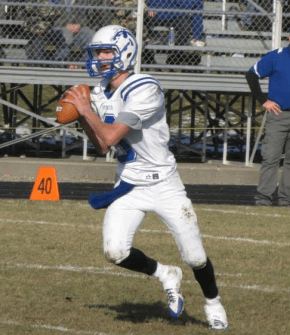 The 2016 recruiting class in the upper-left corner of the country is a good one. A player you may not know, but will want to hear about is Havre sophomore Dane Warp (6'4″ 175).
Havre is a small town (Pop. 9,310) in north-central Montana, about an hour south of the Canadian border. The city is known by most in the college football world as the home to Montana State University-Northern, an NAIA school competing in the Frontier Conference.
Though playing in a small town, Warp is proving to be a big time prospect, putting up impressive numbers the past two seasons. This past season, Warp threw for 2,941 yards and 21 TDs, while completing nearly 63% of his passes.
Those numbers come after a very successful freshman season that saw him throw for 2,837 yards and 30 TDs. Warp was voted All-State both seasons, and has already broken a number of records, including most passing yards for a freshman in Montana state history.
While putting up big numbers, Warp understands there is still a lot of hard work left. "I feel that there is no area in which I don't need to improve in," Warp told NEI. "Work to be better in all areas, do what I can to help my receivers and the team. Watch and learn from as many resources as I can; film, camps, etc."
Warp is a 4.0 student, while taking advanced classes, and is one of the state's top basketball players. Last season on the hardwood, Warp was the Conference's Offensive-MVP and finished with the most points, steals and assists. The past two years he has also been part of the Northwest Cougars travelling basketball team, coached by Craig Baumgartner of Pasco, WA.
Through all of that, Warp still finds time to get to offseason football camps. "I went to the Washington State University football camp in June and earned offensive MVP. I also went to the University of Washington Rising Stars camp and earned co-offensive MVP there," Warp said. "I plan on getting to as many camps as I can. If possible I want to try and attend the camps that might have interest."
Warp understands that being in a small town makes things harder, but has learned to embrace it. "I like the challenge of trying to do more with less. The offense is dictated by what we have to work with," Warp noted. "It is easier to teach six kids to catch and run than it is to add four inches and fifty pounds to ten linemen."
He continued, "My job as the Quarterback is to figure out how to utilize the team to the best of its ability, and it's something I think about every day."
With a great work ethic, the sky is the limit for Warp. He is a well spoken young man that I look forward to following for the next two seasons.