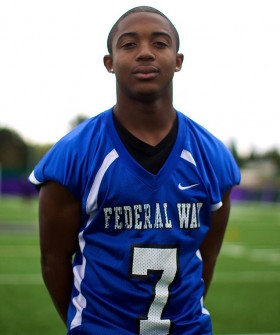 Northwest Elite Index caught up with one of the top 2015 prospects in the Evergreen State, Federal Way's Chico McClatcher, and he updated us on things including which Pac 12 school because the latest to offer him.
"I just got an offer from Oregon State," McClatcher told NEI. "They are my latest offer and I've been talking to a bunch of other schools."
The offer from the Beavers joins full rides from Arizona State, Boise State, Portland State, UCLA, Utah, Washington and Washington State and you can expect USC to be a program that gives him a long look considering that, while at Washington, new Trojan head coach Steve Sarkisian was one of the first to offer McClatcher.
"I haven't talked to any of them yet, but I know they liked me when they were here so we'll see if they still like me now," McClatcher said. "I haven't talked to (new UW head coach Chris Petersen) yet, but I will probably reach out to him pretty soon. I know he had a ton of success over (at Boise State) and they offered me back then, so I know them pretty well and I had a good relationship with them beforehand anyway."
Ever since his team lost in the state semi-finals to eventual champion Chiawana, the talented prospects has turned his focus to recruiting and his senior season.
"We had a great season, but we were short of our goals, so we, as a senior class for next year, we already are focused on being better and getting that championship next year," McClatcher told Northwest Elite Index. "I'm already focused on running track this spring, lifting, working out, getting better and just getting ready to go out with the best season possible."
As a junior this season, McClatcher had nearly 1,700 yards of offense (returns, rushing and receiving) and he also was a standout on the defensive side of the ball, tasked with manning up against the opposition's best receiver.
"It's always a challenge, but I love to compete," McClatcher told NEI earlier this year. "I couldn't imagine not being out there every chance I can and I take it as a challenge every time."
We will continue to keep in touch with McClatcher in the coming weeks and months and we will continue to update news on him as it breaks.