Click For Aaron Washington Highlights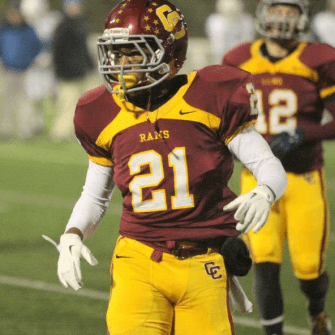 Aaron Washington (5-9 175 Sr. DB/KR) of Central Catholic is one of the Northwest's top recruits and he recently capped off an equally impressive season. Oregon's top ranked corner helped the Rams clinch their first state title in 60 years, while leading the state in INT's with (10).
Washington earned 1st team all league honors and projects as a D1 kid, but has yet to receive his 1st offer. He doesn't have prototypical size for a D1 corner, but his raw ability and dominance on the defensive side of the ball puts him in an elite category. He is one of the NW's most dangerous return men, making him a dual threat kid for some university.
We got to know Aaron well over the off season as he was a standout on the Barton Camp and Combine tour, and an all tournament kid in Vegas as part of our elite 7 on 7 travel squad. His overall athletic ability and no non sense demeanor make him an athlete that will succeed wherever he lands. His 61 total tackles, 6 pass deflections, and 15 takeaways only add to why he is ranked at the top of the charts.
(A Wash) is originally from North Carolina, growing up playing youth ball in some very competitive and tough environments. His physical play and ability to read make him, in my opinion, the exception to the rule when referencing undersized DB's. Taller receivers got bodied and out maneuvered by Washington all year as he let them know who was in control. He was fortunate to be coached by NFL vet and Oregon great Anthony Newman who is the secondary coach at Central Catholic. All of this was crucial as Aaron has just continued to get better.
The state title game was fitting as he clinched the victory with his 2nd INT of the contest, returning the pass 60+ yards before being tripped up. Referencing the recruiting process the kid out of Portland says, "I would love to play anywhere." One of the main reasons he will be successful is that he just wants to play ball. He knows what he is capable of and whatever school gives him an opportunity he will not disappoint.