Click For Landyn Milburn Highlights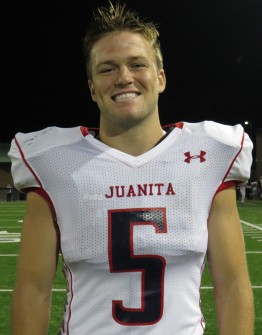 While the season may not have gone the way the Juanita Rebels would have liked, one glaring bright spot was the play of Landyn Milburn (5'11 185). The senior WR/LB was rewarded on both sides of the ball as an All-KingCo performer, first team on offense, and second team on defense.
His play at WR is what really stood out to many. He broke Juanita records for most receptions in a game (10), receptions in a season (54), receptions in a career (66), yards in a game (217), yards in a season (980), yards in career (1318) and receiving Tds in a game (4). About the only record he didn't break was receiving TDs in a season which is 13 by Erv Kuebler (1981), Milburn finished with 11.
"The wide receiver records at Juanita that I broke are a very neat thing. Some of the records go back to the 80's when Juanita was a powerhouse and it's nice to know I'm apart of some football history at the school now," Milburn told NEI. "As a team we always talk about leaving a great legacy behind and I feel like overall, I left a great one not just on the field but In the class and community. I wouldn't of been able to break the records without all the other guys doing there job and making great plays."
Milburn was one of the top players for the highly skilled Rebels, and a player head coach Shaun Tarantola speaks very highly of. "Landyn is a true football player. He loves the game and can impact a game in a number of different ways," Tarantola said. "What makes him unique in my opinion the toughness that he brings to the field and his ability to catch any pass that is near him. He has the best hands of any player that I have been around."
Tarantola continued, "Landyn is going to help any program that gives him the opportunity to play. He will work hard, compete with anyone and be apart of that program through the long haul."
While succeeding on the field is what most people will see, it is Milburn's work off the field that is truly impressive. This year he was voted by coaches for the Juanita Excellence Award, for his work on and off the field, as well as in the community. Milburn has been on the Juanita Cabinet all three years of high school, a member of Kirkland youth council doing service projects for the community with over 150 hours of volunteer work, and is also special education mentor/tutor at the school.
Through all of that, recruiting has been a bit lite. He has been in contact with NAIA powerhouse Carroll College (Helena, Montana), Western Oregon University and Central Washington University. "I've been in contact with all three schools and will be taking visits to them in January. I'm really excited to see what the schools have to offer not just for football, but education wise as well," Milburn noted.
You would be hard pressed to find an athlete with his head on straighter than Milburn. He knows the value of hard work, and wants nothing more than the opportunity to continue to do what he loves.