Click For Darius Pati Highlights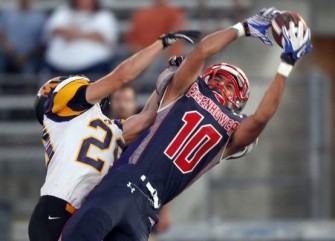 One of the more acrobatic and talented receivers in the state of Washington, Eisenhower (Yakima) WR Darius Pati, is still waiting to figure our where he'll be playing in 2014. Northwest Elite Index caught up with him recently to talk about where things stand.
On the recruiting front, just one program has shown him some interest, but even that has been tepid at best.
"Central (Washington) dropped by to see me a couple of weeks ago, but I was out of school that day, so I haven't really even talked to anyone," Pati told NEI. "I am hoping that we can schedule a meeting with them, but if not, I'm not really sure what will happen."
As a sophomore, Pati used his angular 6'3, 180-pound frame to go up and snag 29 receptions for 386 yards and two touchdowns. Many thought that he had a bright future, but an offseason injury curtailed those lofty goals and he missed his entire junior season.
"During a 7-on-7 camp, I dove for a ball and hit my head on the ground and got a really bad concussion," Pati said. "After me and my family talked it over with my doctors and trainers, we felt it was best for me to sit out the season. I wasn't happy about it, but I had to make sure I was healthy and didn't get hurt worse."
Once he was able to step on the field last spring, Pati got right back to work and showed why everyone thought he was a prospect to keep an eye on and this fall he finished second in the Big 9, to teammate Ridge Harmon, with 40 receptions and 865 yards receiving while tying Harmon for the lead with 12 touchdown receptions.
"I'm more of the downfield guy," Pati said. "I like to stretch the field and make plays for my team that can stretch things."
Pati is a very good student, so grades aren't holding him back, but missing his junior season probably affected his recruitment more than anything. With that in mind, he said, if things don't work out with four-year programs, he's willing to look at going to the junior college route and if he does, he's already got a program in northern California in mind.
"I've already looked at Golden West and I think they are a pretty good program to look at," Pati noted. "I'm just going to keep an open mind and not eliminate anything. I want to keep playing and I think I can help someone. I just need to find the right fit and have someone like what I can do."
With Pati's outstanding ball skills, solid study habits and size it's surprising no one has come after him harder. Hopefully someone takes a look at what he can do on the football field and gives him the opportunity because if they do, they could have a real "diamond in the rough" on their hands.