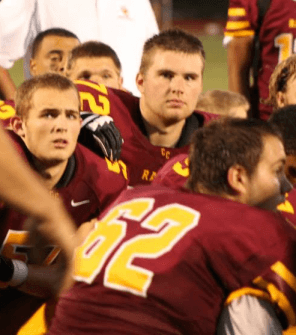 One of the most impressive aspects to the Central Catholic Rams winning the 6A state title is the fact that the team is stacked with underclassmen. The kids up front did a phenomenal job opening holes for D1 backs Ryan Nall and Cameron Scarlett, as both went off during the playoffs.
Blake Brandel (6-7 245), Riley Gallant (6-5 270) and TJ Salu (6-2 260) are ranked three of our top 10 lineman state wide for the 2015 class and each of them project at the D1 level. They will be attending the Army All-American Combine in San Antonio this January, along with the state's top junior recruit in Scarlett.
Head coach Steve Pyne and his staff have done a great job of building within, and they should have a solid core returning next year to defend their state title. Salu was the rock in the middle, earning 1st team all league and 2nd team all-state honors. Referencing their recent championship TJ says, "It's an amazing feeling to know that all of your hard work and dedication has paid off, its hard to put into words what it was like". He continued, "Jesuit is a great team and program and to beat them twice in one season is something I will never forget."
Salu is an outstanding student finishing the last school year with a 4.2 GPA and an accumulative (3.93). He has D1 genes with both his parents being scholarship athletes at Portland St (football, softball). His father came from American Samoa and has helped instill a work ethic in TJ that resonates on and off the field. He is up at 5AM every morning to lift and his academics speak for themselves.
Brandel is a big time D1 talent and just an outstanding overall athlete. He is one of Oregon's better basketball players, but also someone that can play at the highest level on the football field. Before the state championship Coach Pyne said, "I don't know if I have ever seen the kid have a bad day.. He never takes a play off and just continually wants to get better."
Blake was a 1st team all-league and 1st team all-state kid, and ranked our #3 Offensive Lineman overall in Oregon. At 6-7 he has the frame to add significant size. He should be someone we see highly sought after by multiple D1's over the off season, as his play on defense speaks to his versatility.
Gallant was a kid that earned honorable mention all league accolades and had a breakout type season. His overall size and work ethic are telling, as his upside makes him one of our top ranked lineman in the Northwest. Riley just continued to get better and had a couple of his best games in the state semi's and championship. With continued work over the off season expect to see Gallant be courted by multiple schools.
Already speaking on next year Salu says, "Our goal will be the same which is to win state and personally I want to step up and be the team leader". He added, "College wise I want to play at the D1 level as it's something I have dreamed about since I was a little boy."
You can have all the skill kids in the world, but without the big boys up front you will be hard pressed to win a state title. The Rams potentially have the best returning up front cast in the region so there chances of a repeat are in tact.