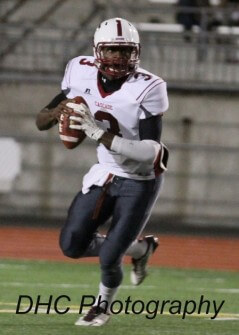 A resurgent Cascade (Everett, Wa.) program made their way into the state playoffs this past season and a big reason was the play of QB Josh Smith, a dynamic playmaker who hurt opposing defenses with his legs as well as his arm.
Smith finished the season by completing over 60% of his passes for 2,230 yards with 22 touchdowns and six interceptions while also rushing for nearly 1,000 yards and eight more scores.
He did it all for the Bruins, but gives a lot of credit to his coaches and teammates.
"Football is a team sport, so it's not just about me," Smith admitted to Northwest Elite Index from his home back in Florida where he is visiting family for the holiday season. "I improved a lot as an overall player, but there are still things for me to work on. Making quicker reads, not running so quickly, but when I do, just going and not hesitating. My mechanics were pretty good, but you can always work on those too."
On the recruiting front, Smith remains committed to South Alabama, the school that offered him back in the summer, but he's also giving a Northwest school a long look as well.
"Portland State is after me pretty hard and they like me at quarterback and their system is pretty quarterback friendly so they are a school that really interests me," Smith acknowledged. "I'll take visits to both South Alabama and Portland State and I'm open to listening to other schools, but if not, I have two good choices and I think I can find a home at either school, so it's really going to be about the fit, how I get along with the players and coaches and also the system they run."
At 6'3″ and 205 pounds with outstanding speed and athleticism, Smith is the prototype for the read-option/spread attacks that are so prevalent in today's college game.
We will continue to keep tabs on Smith over the next seven weeks and we will update news on him as it happens.