Click For Josh Wright Highlights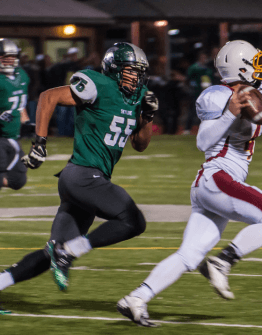 The state of Washington is littered with defensive lineman that have a knack for getting to the QB. Arguably the top sackmaster in the state is Josh Wright (6'1″ 220) of Skyline High School in Sammamish.
As a junior Wright had nine sacks for the Spartans, who won the 4A state championship. This season, Wright doubled up finishing with 18 sacks, including twice racking up five in a game. He also added 74 tackles and three fumble recoveries, turning in one of the more impressive seasons I can remember.
"Last year I got honorable mention for defensive end and offensive tackle. This really fired me up to be the best I can be, because I felt like I deserved better than that," Wright told NEI. "During this off season, I worked really hard with technique and being the best player i can possibly be to prove that im worth that 1st team spot."
The hard work certainly did pay off as Wright was named the KingCo Crown Defensive MVP, as well as first team All-KingCo on both the DL and OL. A few weeks ago he was named to the Seattle Star Times Team, which is an All-Area selection. Today it was revealed that Wright has been selected as a first team All-State member by the Associated Press.
Through the course of the season, Wright would break the Skyline record for career sacks. "The record for a career was 15, and I came into my senior season with 13 sacks," Wright noted.
Wright is a player we got to know last off season at Elite Events, and then twice on the Combine Tour. He came in, worked hard and consistently beat his offensive opponent. His offseason culminated with a terrific showing at the RDAF Northwest College Showcase in June at Interlake High School. Most consider Wright to be a pure edge rusher, running around a 4.6 40-yard dash, but at the Showcase he also showed he has the strength to bull-rush.
As a three year starter, two-time state champ and his testing being off the charts, we pegged Wright as a Top Athlete / No Offer . While Wright is still without an offer, we still consider him to be a player that should play on at least the FCS level.
I really can't say enough great things about Wright. He was a captain this past season, and coming from the Skyline program you know he has been around some of the best coaching in the region. The team that is willing to take a chance on Wright, might just be the team that gets the biggest steal of the 2013 recruiting class.