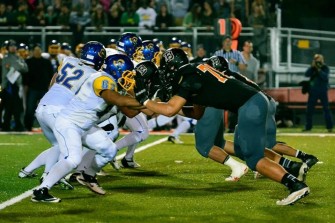 Jared Hilbers (6-7 270 Jr. OL/DL) out of Beaverton is one of the Northwest's top recruits. He earned 3rd team all Metro honors this past season as the Beavers pulled one of the biggest upsets of the state playoffs, beating CVC champ Sprague 35-34 in OT, to kick off the opening round.
Hilbers is a kid that possesses massive size, but it is his upside and overall versatility that make him so appealing. He projects at the D1 level and looks to be only getting better. He says, "Last season I feel like I got off to a decent start considering it was my first year starting on varsity." Hilbers added, "Our guys did a good job against league competition considering most of the teams in the Metro were senior dominated, and we had mostly juniors."
Beaverton went (6-6) on the year but had a tough time in conference going (1-4). Next season they will bring back one of their better groups in recent memory, as they could very well challenge for a conference title. Hilbers will be a key component on both sides of the ball and will also be one of the region's most sought after recruits. Its hard to teach 6-7 and athletic, which is exactly what the kid brings to the table.
Sophomore QB Sam Noyer (6-4 190) will be one of Oregon's top ranked athletes for the 2016 class and he is surrounded with a talented cast of skill kids. Bryce Barker (6-3 185 Jr. WR/S) is one of the more gifted two way threats in the state, with Stephen Marcille (5-11 165 Jr. Slot/DB) and Chidubem Nnoli (5-10 190 Jr. RB) both playing a big role out of the slot and backfield. Add in junior all league LB's Casey Cornwell (5-9 175 Jr.) and Tovey Brown and you have a group that should sure up the defense.
Referencing 2014 Jared says, "With the class behind us I feel like we could go far in the playoffs next year." Adding, "We will need to put in the work during the off season, which shouldn't be a problem as the returning players are very motivated."
With continued progression Hilbers could become that next big time tackle, or find himself on the defensive side of the ball where he wreaked havoc this past season. He is one of three 6-7 lineman that should be high profile D1 recruits (Levi Long 6-7 275 Sprague, Blake Brandel 6-7 245 Central Catholic) going into 2014. For the time being Jared is focused on helping Beaverton make a championship run. We will keep you updated as you can expect his recruitment to sky rocket over the off season.