Click For Dylan Axelson Highlights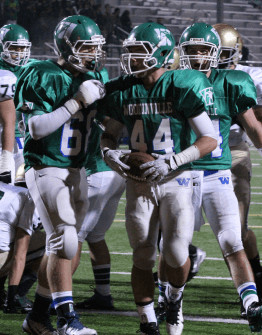 One of the top sophomore's in the state of Washington this football season was Woodinville LB Dylan Axelson. He had a huge season from his linebacker position and is a player to watch in the 2016 in-state recruiting class.
Even though he's a bit undersized as a linebacker at 5'10", 185 pounds, Axelson still finished with a team-leading 59 tackles while tying for the team-lead with five sacks even though he missed the last game with an injury.
"They played me inside, but I was more of a WIL (weakside inside linebacker). I usually split the tackle and the second wide receiver most of the time," Axelson told Northwest Elite Index. "One thing I do well is that I read plays and I fill the hole and then I wrap up when I get there."
One thing that Axelson said has helped him on the gridiron is the fact that he is a wrestler.
"If I could get our whole team to wrestle, I would do it. It's so helpful in getting leverage and getting low on guys," Axelson noted. "It helps me tremendously. I think it's a big reason why I don't miss a lot of tackles."
As far as what he plans to work on this offseason, Axelson said he wants to get smarter about how he plays the game and learning what opposing offenses are doing to hurt his team.
"I really want to increase my knowledge of football and get smarter about things," Axelson said. "I want to study offenses more and understand them and their concepts and how they are trying to hurt us. I also want to understand our weaknesses in the defense we play, where our soft spots are and how we can cover those up as well."
With camp season happening in six months, Axelson admits he hasn't really thought much about what schools and camps he wants to hit, but plans to do that after his wrestling season is completed.
While he may never wind up having the size to play linebacker at the next level, he definitely has the speed, quickness and athleticism to find his way onto a four-year school's roster as a defensive back at the very least. He's definitely a player to keep an eye on in the coming months and as he enters his junior season, expect him to be a hot prospect with schools.