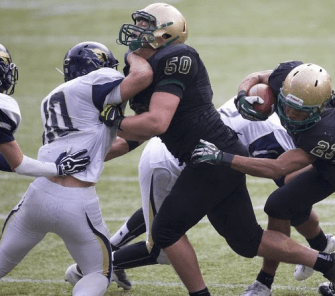 One of the more important, yet unrecognized headlines during the 6A state playoffs was the play of the Jesuit offensive line. John Andreas did some of his best work yet replacing four D1 kids upfront from the 2012 group.
Three 1st team All Metro athletes led the way this year with senior's Mike Miller and Charlie Landgraf having stellar seasons, while Junior Nick Miller (6-3 265 OL) had a breakout 2013 campaign. Miller played as well as any junior lineman in Oregon covering the course of the season, showing off unique intangibles and instincts that most kids don't have.
Speaking on the year Nick says, "I have never been on a team with the chemistry that we had this year, both as a core group and on the offensive line". He continued, "It was great to watch our senior's take the leadership role and some of our young guys step up all throughout the season."
People questioned what Jesuit would do with the loss of All American Joey Alfieri in Week 8, but junior back Chase Morrison stepped up big and took advantage of a very fundamentally sound and strong Crusader line. Jesuit never looked more real then in the state championship when they ran on the Central Catholic Rams for much of the contest.
Miller was a catalyst on the push they got against the Rams front, as D1 projected Senior Mike Miller said, "Nick's just really good, he plays smart and works as hard as anybody."
Referencing the line play Nick says, "I'm very happy with the way we battled even when people were counting us out with the loss of Joey Alfieri…. We were still able to run the ball effectively." Adding, "We would like to make it back to a state title game and hopefully win it, but we understand it will be tough after losing a special senior class."
The Crusaders will once again be one of Oregon's best next season, with a legit 2016 class leading the way. Next year's junior's will have to step up as Miller will be the key to the run game. Skill kids are everywhere on the Jesuit roster, but without Miller's presence on the line it would be tough.
With continued growth and progression Nick will be a talented college football player. He has jumped up our rankings board, proving that he is one of the better lineman in the region, and is a kid that we are looking forward to seeing this off season.