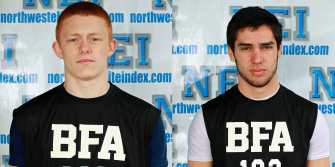 Fresh off one of the biggest upsets in Northwest history the West Albany Bulldogs have a lot to be excited about. The Oregon 5A champions bring back one of the top secondaries in the region led by JT Valenzuela (5-10 180 Jr. S/ATH) and Joey Roos (6-2 195 Jr. S/ATH), ranking as two of the top five safeties in the state.
As most know West lost to Sherwood 48-0 earlier in the year, as this was the team they eventually beat in the state title game 21-20. In the original matchup 2012 Oregon Gatorade Player of the Year Jake Lacoste was held to 67 yards on 22 carries, and the defense gave up way to many points.
The championship was a completely different story as JT said, "We focused like never before, played very disciplined and everyone felt confident." This said as Valenzuela and Roos both showed why they will be two of the state's top ranked athletes next season. Both kids earned 2nd team all league accolades as sophomores, before dominating the competition this past year and grabbing 1st team all league and 1st team all state honors.
Referencing next season Valenzuela says, "I have high hopes for my team next year in our new league and I think we should still be a high powered group". He continued, "I want next year to be my breakout season on both sides of the ball."
It will be tough to breakout much more with both Joey and JT showing the unique ability to cover the pass and run equally well. Expect JT to be an offensive player of the year candidate in 2014, as he is a threat to take it to the house any time he has the ball in his hands. He could very well be Oregon's most dangerous return man and with continued progression will be a scholarship type DB/Slot.
Roos has many of the same intangibles and also has legit size. Much like JT he is not afraid to come up and stick you. Both athletes had outstanding performances on the Barton Camp and Combine tour last year and the rest is history.
West Albany had a phenomenal senior class with talented kids up and down the board. Referencing Oregon's 5A player of the Year and future D1 back Jake Lacoste JT says, "Jake and the Lacoste family are huge at West, they are not only great football players but great people". He added, "Jake is a good friend of mine and I'm excited to see what happens for him in the future."
The Bulldogs will make the jump back to the 6A level and should still be one of the better teams in the state. Head coach Randy Nyquist has put himself in the conversation as one of Oregon's all time great coaches, and we are excited to see Valenzuela, Roos, and all of the Bulldog athletes during the off season.