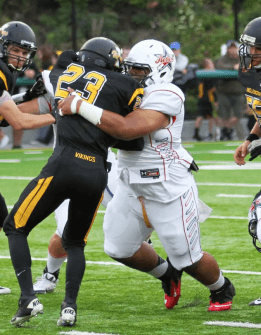 Juanita's Thomas Toki continues to see his stock rise as he recently picked up offers from Colorado, Utah and Vanderbilt. That brings his total to seven offers, including six from the Pac-12.
With Vanderbilt joining the race, Toki now has an opportunity to play in what many consider the best conference in college football, the SEC. This may just be the tip of the iceberg for Toki. "I've been in contact with CAL, Alabama, Auburn, Florida State, Arizona, BYU, USC, Nebraska, Wisconsin, Notre Dame, and some other big schools," Toki told NEI. "How hard I work depends on them offering and as for right now I feel like I got lots of work to do in the off season."
Hard work is nothing new to Toki. He was a regular at our Elite Events last offseason, while also attending combine events and was even named an MVP. "My plans are too train harder than other athletes to separate myself from them since I'm undersized," Toki said. "Another plan of mine is to attempt the off season camps such as the nike camp to test my skills upon other best athletes out there."
With all the hard work, Toki plans on visiting multiple schools this offseason. "I'm planning on taking visits too WSU and Oregon State again. I'm also planning on visiting UW, UCLA, and CAL sometime soon and plan on attending the Under Armour All-American camp and the Nike camps."
Recently Toki was named first team All-KingCo by the league's coaches, for the second year in a row, and was named to our first team All-Underclassmen Team. This was all while missing a portion of the season due to a shoulder injury.
This offseason could be really big for Toki, as many other top schools appear close to offering. With out 2015 player rankings taking shape, expect to see Toki at or near the top of the Defensive Line page, as he is not only one of the best in Washington, but proving to be one of the top in the country.