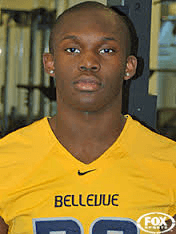 After yet another champnionship, the sixth-straigth and 11th in the past 13 years, Bellevue's top recruits have turned their attention toward recruiting. One that is starting to see his recruitment pick up steam is junior LB Mustafa Branch who recently picked up his first offer.
"I got an offer from Northwestern back at the end of November," Branch told Northwest Elite Index. "Honestly, it was a bit of a surprise because I'd never talked to them before. They called my coaches and talked to them and then they offered me when they talked to me."
In addition to his offer from the Wildcats, Branch said he's been hearing from Washington, Oregon State and Washington State although the Huskies' new coaching staff have yet to reach out to him.
Branch played both sides of the ball for the Wolverines this season, but a broken collarbone kept him out of six games had him hungry to contribute when he came back.
"I broke it in the Bothell game which was the second game of our season and then I came back and played against Mercer Island for the last game of the regular season then the playoffs," Branch said.
Since the Wolverines do not keep stats, it's hard to give you an exact total of his overall contributions, but there is no questioning his abilities to play the game physically and make an impact on the game, especially from his linebacker spot.
"I prefer defense just because of how physical you can be," the 6'0, 215-pounder said. "I love to play the game physically and just fly around and make plays. That's how our whole team plays and we have a lot of fun doing it."
Branch is unsure if he will hit the camp circuit this summer or not, choosing instead to focus on his senior season.
We will have more on this rising prospect from the Evergreen State after the start of the new year when recruiting promises to pick up for him.