AJ Layton Highlights Tyler Puletasi Highlights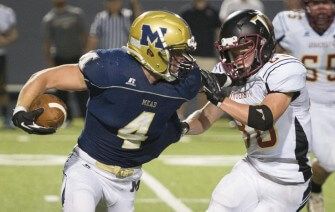 More and more the eastern side of Washington is producing top end talent, especially from Mead High School in Spokane. Two years ago it was Langston Ward (Harvard) and Danny Mattingly (Oregon), this year Jonah Jordan (Eastern Washington Commit). Next in line look to be junior AJ Layton (LB/DB 5'11" 195) and sophomore Tyler Puletasi (LB 6'2″ 190).
Layton plays a rover (LB/DB) type position for the Panthers, and probably projects to play strong safety at the next level, but has been awarded as a 1st Team All-GSL Linebacker the past two seasons. This year Layton finished with a new school record 143 tackles, including 82 solo.
"He (AJ) is a great player, is always the hardest worker and during practice he doesn't take anything for granted," Puletasi said. "He is always running and hitting the hardest. AJ brings not only a run stopping threat to our defense, but he is so quick he can cover most of the receivers in the GSL with no problem."
The football field is just a tip of the iceberg for Layton. He was a three sport varsity letterman as a freshman (Football, Wrestling and Track), and last year was part of a 4×400 relay team that participated at the Track and Field State Championships. Where Layton excels the most may be in the classroom, as he sports a 4.0 GPA in all advanced classes, while also being part of the National Honor Society.
Coming from a football family, his dad being a coach, AJ understands the value of hard work. "My personal goals for the off season are to keep training, and go to as many combines and camps as possible. Next season I want to be the best I can be," Layton told NEI. "As a team we want to improve. We felt we did not meet the potential we had been given last year."
Layton continued, "We have lots of guys returning and we all want a GSL championship. We've made some big changes as a team and last year's hard season has only brought us closer."
One of the key players to the Mead defense next season will be Puletasi. While he was not selected as an All-GSL member, his numbers were definitely deserving as he finished with 77 tackles, three fumble recoveries and six QB hurries, all while only starting seven games.
"Tyler is a kid with a lot of potential. He's one of the biggest kids on the team and he was only a sophomore," Layton said of Puletasi. "He stepped up huge for us this season playing middle linebacker for when Luke (Hilmes) got injured. He has a knack for getting to the ball. He is going to play a huge role on our team next year as a junior."
Right now Puletasi relies on speed and instincts, but the sky is the limit as he begins to further his knowledge of the position, and Layton will be there helping him along the way. "Over last summer he (Layton) took me under his wing and helped me learn the defense and more of the linebacker position," Puletasi said. "Coming into the season I was playing on defensive line until Coach Layton had AJ tell me to come try linebacker. If he wouldn't have done that, I don't think I would have had the season I did."
Right now recruiting is light for both players, but it is sure to pick up over the offseason. I look forward to following both athletes as they work towards the ultimate goal, college football.