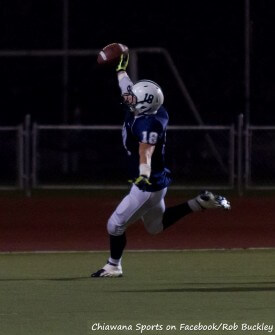 A big reason that 4A State Champion Chiawana (Pasco, Wa.) was so tough defensively this year was the leadership and productivity of LB Alex Weber. The 6'1″, 225-pounder ended up being name a First Team All-State selection on numerous lists and has now started to focus on where he will play football in 2014.
"Winning a championship was the goal we set at the start of the year and we all believed we could do it," Weber told Northwest Elite Index recently. "We all bonded. We played well. We never gave up. I mean, it was just an amazing run and a great way to finish my high school career."
With his senior season completed, Weber has now turned his focus toward recruiting and he's got a few to options at his fingertips.
"Cal has offered me and Air Force as well. Penn and Cornell have both offered me," Weber said. "Boise State actually talked to me (Thursday) and Washington has called me as well. Coach (Chris) Petersen reached out to me and said he wants to get to know me better as well.
"As far as visits, I am visiting Cal on January 24th, Air Force on January 31st and Penn on January 17th. I am not 100% sure on that one yet, but I am pretty sure that's when I will head there to visit."
This season, Weber posted nearly 100 tackles in 14 games and said the number one thing that schools seem to like about him is the attitude he plays with.
"The top thing coaches seem to like about me is that I love to hit and smash people," Weber said. "I just love to play the game and I play with passion."
Weber also said schools have said they want him to work a little on his speed and agility so he can play outside instead of his normal inside spot.
"Most schools like me outside, so they want me to keep working on my speed and my flexibility," Weber admitted. "Air Force likes me inside and I know that I can play anywhere. I just need to keep working on the things they tell me they want to see."
We will have more on Weber in the coming weeks as he gets closer to making his decision.