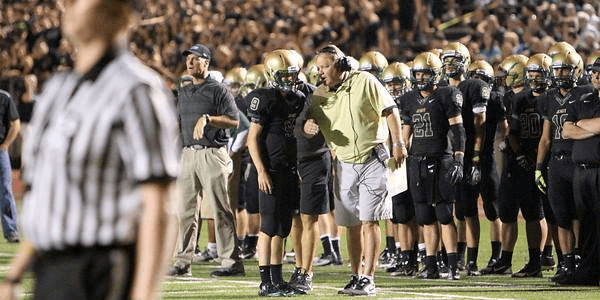 Every year Jesuit seems to be one of the top teams in the Northwest and it looks like the trend will continue. The Crusaders return what looks to be one of the better classes in school history, with close to double digit sophomores starting during this year's state championship run.
The Crusaders came up just short losing to Central Catholic 38-28 in the title game. Jesuit was without All American Joey Alfieri, but featured a special senior class that included the likes of Henry Mondeaux, Christian Martinek, Trent Werner, and Mike Miller, all D1 level athletes.
You can expect this 2016 class to potentially be just as talented and even deeper. Eric Restic (5-11 165 So. QB) stepped up big and showed maturity as the year progressed. He played with no fear and a confidence that you can't teach at such a young age. Coach Potter added some grey hair as Eric wasn't a big fan of sliding when he could get a few extra yards.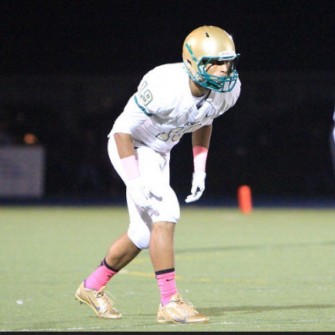 All of this speaks to his upside as Restic is one of the top young QB's in the region. He has been training at Barton Football since the 4th grade and he couldn't be more confident in his guys. "We wanted to win the title, but that's all the more reason for us to get out and start working towards next year." Eric had an phenomenal sophomore year throwing 19 TD's to 6 Int's, while hitting on 60.2% of his passes for 1089 yards, heading into the state title game.
Two weeks after the state championship Restic and his boys were out running routes in preparation for next season. The talent is there, but as future D1 back Jason Talley (6-1 195 So. RB) says, "No one's ever satisfied even with the great season that we had, which is what I think makes our group elite". Talley continued, "If you become complacent or satisfied at any point you won't continue to get better."
As most know Jason is the brother of record breaking RB Jordan Talley, now a linebacker for Eastern Washington. Jason earned 2nd team all league honors at fullback, and will eventually move into the primary role at tailback with 2000+ yard rusher Chase Morrison (5-10 175 Jr.) returning as well next season.
Speaking on the other talent, Zach Houlemard (6-1 195 So. ATH/DB), Mike Petroff (6-1 220 So. FB/LB), Jordan Happle (6-0 180 So. DB), Nate Heaukulani (6-1 200 So. LB), and Donovan Baldocchi (5-11 165 So. CB) will all rank as some of our top athletes state wide at their positions. Each of them started and got significant playing time this season, looking experienced beyond their years.
Houlemard is a kid that I for see playing D1 ball. He is a super talented overall athlete and someone that will be one of the best in Oregon in the coming year. He started all season for the Crusaders with Restic saying, "Houle just got better every game and had a clutch INT for us in the championship."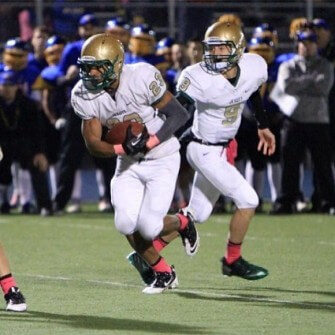 Petroff has the frame to be Jesuit's next big time talent out of the fullback/linebacker position. His physical play and consistent production make him one of the more viable recruits in the Pacific Northwest, and someone that we will hear a lot about over the next two seasons.
The breakout performer of the year in the Metro League could very well have been Jordan Happle. He led the team in INT's (4) and was one of the better DB's in the state as a sophomore. His upside is through the roof, as you can't teach god given football instincts and legit ability on both sides of the ball.
Another kid that stepped up and started for most of the season was Heaukalani. With Alfieri going down Nate filled in nicely and was one of the better defensive players on the field. You can expect him and Baldocchi to sure up the Crusader secondary and linebacker positions, making it potentially one of the best D's in the West in the coming years.
Its no secret that the Crusader offense will still focus on the run. That said Restic's offensive prowess gives head coach Ken Potter options, as the 2013 team was the 2nd most productive (total yards) in school history. Matt Ferguson (5-11 170 So. ATH) and Tanner Tropio (6-0 170 So. WR) are two other very talented kids who got PT and will be go to guys offensively.
Michael Alfieri (5-9 155 So. ATH) is the other kid you can expect to be a big time factor moving forward. His brother Joey grew late and Michael looks to be in a similar situation. He had an outstanding year playing JV ball and was a standout on the Barton Camp and Combine tour this past off season. His NFL genes speak to his full potential.
Referencing the young guys up front Restic says, "We have all the confidence in the world when it comes to our line". He added, "Sophomore lineman Mitchell Franck (So. OL), Griffen Marler (So. OL), and Junior Matt Woodruff (Jr. OL) will all be kids that you can expect to play a role."
They will have one of the state's best in Nick Miller (6-3 265 Jr. OL) and talented returning starter Paul Vickers (6-1 250 Jr. OL/DL) leading them as Talley reiterated some of the same thoughts. "Our line does great work and they will be key to us reaching our goals."
To summarize the talent and work ethic of this Jesuit group you can look to the workouts in the December cold. Two weeks after the state title game and the kids are out grinding. Expect this junior based team to challenge for a state championship next season, as we look forward to seeing this Crusader class over the off season.