Justice Murphy Highlights Rey Green Highlights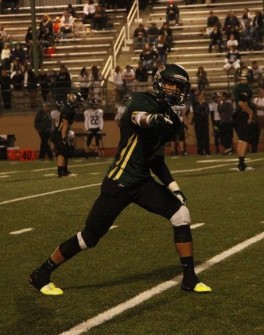 As the off season gets underway two individuals that will be recruited on a national level include Justice Murphy (6-1 190 Jr. WR) and Rey Green (5-10 190 So. RB), of Evergreen HS in Washington.
The Vancouver based school scored big with the hire of Don Johnson Jr. and he didn't disappoint. Johnson led Milwaukie High School of Oregon to their best season in years, before making the switch this season. Both Murphy and Green are athletes that Coach Johnson describes as unquestioned Pac 12 level kids.
Evergreen went (4-5) this past season losing to the likes of Camas and Union, as the Plainsmen could very well be the fastest rising program in the state. Murphy was listed as a 3 star recruit by nationally renowned analyst Brandon Huffman of Scout, with Green grabbing 2 stars. We will look forward to seeing this duo at our elite events and on the Barton Camp and Combine tour over the off season, with the other top athletes from around the region.
Murphy will be a kid that should see several offers come his way in the near future as Johnson says his recruitment just continues to sky rocket. Green is in a similar situation as coach says, "Justice would start for any high school in the country, he's that good". He added, "I've spent a lot of time in Cali and coached a lot of top athletes out of the state, and both of these kids can play with any of them."
Johnson played professionally and was a Player of the Year out of California. His father Don Johnson Sr. is currently with the San Diego Chargers, spending decades in the NFL and at the highest level of college football.
The best news for the Plainsmen is that they are loaded with talented young athletes that have size. Sophomore LB DJ Roberts earned 2nd team all league honors with Murphy and Green, and looks to be one of the top young backers in Washington.
Quarterback Brandon Bea (6-3 215 So.) is a kid with a big upside that has legit size, and will only continue to get better under Johnson's instruction. Kobey Eaton (6-2 185 Jr. WR/S) will be another favorite target of Bea's and one of the top two way threats in the GSHL.
The defense is looking just as deep with 2nd team all league D lineman Austin Wright (Jr. DL) returning. JR Mataia (6-3 230 So. DE) could be one of the top ranked lineman in the state for the 2016 class, with Mitch Carnahan (6-3 215 DL/LB) and Isaiah Leccum (6-3 245 DE) both being future top ranked kids at their position.
Expect Evergreen to challenge for a GSHL title next season and be one of the most improved teams in Washington. Johnson hired outstanding coordinators in former Oregon Duck WR Kory Murphy and LB DeWayne Patterson of Washington State. He takes a no-non sense approach where grades are a first priority if the kid wants to play.
Johnson commends his senior class on the season, and what they have done to set the right tone for the underclassmen. LB Brody Bagnall (6-3 225 Sr.) is one of the most under recruited kids in the region, projecting at the D1 level. We will hear much more from him shortly.
In summary everything is coming together for the Plainsmen as they will have a legit shot in 2014. We will keep you updated as the off season progresses and will look forward to seeing the Evergreen athletes in the coming months.