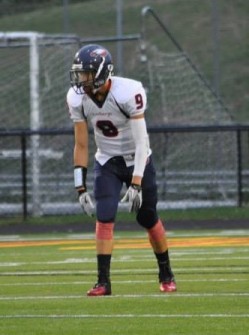 As we continue to feature some of the top prospects in the Evergreen State and one that had a solid junior year was Lindbergh (Renton) WR Devon Jackson.
At nearly 6'2″ and weighing in at 173 pounds, Jackson was a handful for defenses and the Eagles used him in many different ways.
"I played receiver and defensive back mostly, but they also used me in the backfield as a quarterback when ours went down," Jackson told Northwest Elite Index recently. "I'll do anything to help my team, so when they came to me and asked me to move, of course I'm going to say yes."
Jackson finished the season with 19 receptions for 367 yards and two touchdowns, while he carried the ball 76 times for 283 yards and eight scores and he racked up 24 tackles and three interceptions at corner as well.
"Honestly, I will play anywhere my team needs me, but if you asked me what I prefer, it's definitely defense," Jackson said. "I like reading the quarterback and then making plays when the ball is in the air I can go up and get it."
This offseason, Jackson said he plans to attend some camps and he wants to work on two aspects of his game, but knows he can't continue to hone the skills he's already established.
"I want to work on my speed and my strength mostly, but I want to improve everything I do out there," Jackson said.
As far as recruiting is concerned, he has yet to hear from any colleges, but you can expect that to change this spring when schools get a look at his athleticism and versatility.