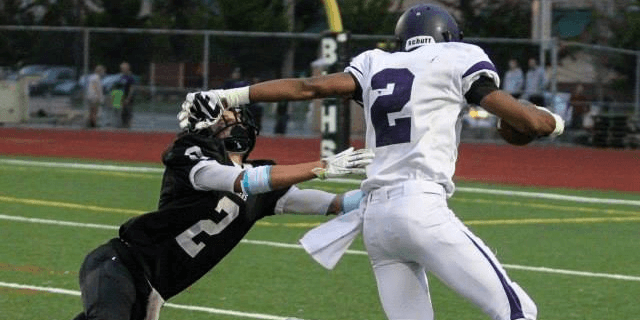 Even though he played in a run-heavy offense this past season, Sumner (Wa.) WR Triston Wedington put up big enough numbers to receive First Team All-SPSL 2A honors and is one of the top returning wideouts in the state this coming fall.
While helping Sumner to an 11-1 record last year, Wedington hauled in 37 catches for 612 yards and 11 touchdowns, using his 6'1″, 175-pound frame to become a big-play receiver for the Spartans.
"I can beat a lot of corners. I'm a good deep threat," Wedington told Northwest Elite Index. "I caught a lot of short passes and made plays early on, but then eventually they started to throw the ball down the field to me and I became a deep threat.
"I have clutch hands and I watch the ball all the way in. I always feel like I can go up and get the ball whenever my quarterback throws it down the field. I'm very confident in what I can do."
This offseason, Wedington admits he knows he has things to work on and he hopes to hit some camps this summer, although he doesn't know which ones he will attend.
"I definitely need to gain more weight," Wedington noted. "I also am working a lot on my speed, just being more efficient in how I run so that there's no wasted motion. I want to get more explosive than I already am.
"This spring and summer, I'll hit some camps. I want to step my training up and go up against some of the top guys in the area, so I'll look and see which ones to attend. I've still got time to look at the schedule though, so I haven't really looked any of that up yet."
As far as recruiting is concerned, Wedington hasn't heard from any schools yet, but admits he is still working on getting his junior highlights done.
With his size, speed and the ability to get deep, Wedington is an intriguing prospect to keep an eye on over the next few months as schools get a look at him and what he can do. And with the Sumner program emerging at the 2A level, there's a very good chance he will have a lot more eyes on him than he normally would have in any other year.