Click For Marquise Lee Highlights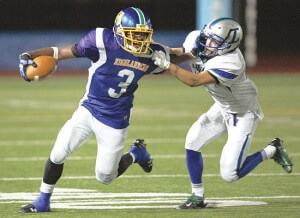 One of the more under-the-radar athletes in the State of Washington is Hazen (Renton) RB/DB Marquise Lee (5'10" 190).
This past season, Lee was voted to the All-Seamount League first team as a defensive back and second team for his work at running back. Recently we named him to the second team (DB) and third team (RB) on our NEI All-Underclassmen Team. This comes after Lee was voted second team All-Seamount defensive back as a sophomore.
While the season may not have gone the way the Highlanders would've liked, finishing 5-4 and missing out on the playoffs, Lee was one of the major bright spots. Towards the end of the season, Lee managed to find the endzone six times in back-to-back weeks, scoring just about every way possible, including all three phases (Offense, Defense and Special Team) of the game.
In Hazen's 49-35 win over Bainbridge in week seven, he finished with 132 rushing yards and two TDs on just five carries. Lee also set a school record with three INTs, including returning one for a touchdown, and scored another TD from a reception.
"When I attended college I want to play as a defensive back, but really where ever they need me at, I will play that position," Lee told NEI. "I would have to say I don't have a weakness or strength I just play my game."
Being able to play many different positions, Lee should have plenty of options to play at the next level, but recruiting is rather slow right now. "I haven't talked to any colleges yet, but I hope to," Lee said. "As of right know I don't really have visits planned, so it would have to be unofficial."
The focus for Lee is to get ready for the 2014 season. "My personal goals for offseason is to stay committed to my team, the weight room and to keep my grades up (3.56 GPA)," Lee noted. "My team goals are to go to state and be the best team we can be. I plan on accomplishing these goals but staying on top of everything and not slacking."
Lee is an exceptional athlete with the mindset to do great things. This offseason could really open options for a player that should be a candidate for most All-State teams next season.