Click for Paul Wells Highlights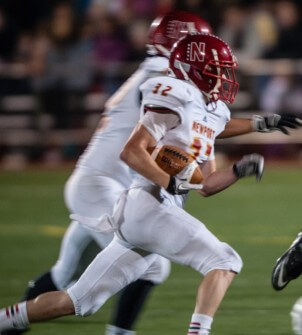 As we begin to turn focus to the class of 2015, one athlete that has been impressive on both sides of the ball is RB/DB Paul Wells (5'10" 175) of Newport High School in Bellevue.
This past season, Wells was voted first team All-KingCo as a defensive back, and second team for his work at running back. These were both improvements from his sophomore year in which he was a second team defensive back and honorable mention running back.
Wells was Newport's second leading rusher with 811 yards and 16 TDs, behind Eastern Washington commit and first team All-State member Conner Baumann, but they will lose Baumann and leading receiver Drew Sample next season to graduation.
"Losing two division 1 players is huge but I am determined to build off of my sophomore and junior seasons and lead my team on the field and off the field. I will do everything it takes to push Newport deeper into the playoffs," Wells told NEI. "Our team goals for next season are to win the KingCo championship, and the state championship."
Hard work and dedication is something Wells knows all about. He comes from a very athletic family, with five brothers, three having gone on to play sports in college. Jake and Adam both played football at Dixie State, Adam was the leading rusher in 2007, and Stephen played baseball at BYU.
"If I want to accomplish my personal and team goals, we have to work extremly hard in the offseason. We need to get in the weightroom everyday," Wells said. "If I can gain some weight this offseason, I feel like with my speed I can do some big things next year and step into the role that Baumann had last year offensively and defensively. I will again try to make my mark on each play."
Recruiting is light right now for Wells, most smaller schools, but has heard from both Washington State and BYU. He plans on visiting both schools this offseason, but currently does not have a trip planned to either.
When the 2014 season rolls around, Newport should be one of the top teams in KingCo 4A. Wells will be one of the front runners for offensive and defensive player of the year honors within the league, and should be a frontrunner for an All-State nomination.