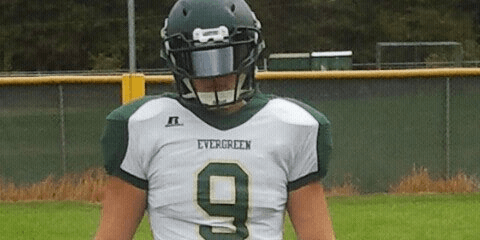 Every year we rank and acknowledge the top athletes in the region by position. For the most part we are accurate as we get to work with a majority of the top kids in the Northwest.
An individual that was missed is Brody Bagnall (6-3 228 Sr. LB) of Evergreen High School. After watching his film you see a legit D1 kid that is currently on the bubble with multiple schools. He brings a lot to the table on and off the field, sporting a 3.7 GPA with a 1700 SAT.
Bagnall accumulated 168 total tackles and 21 tackles for loss, with 2 INT's while racking up 2nd team all GSHL honors this past season. He is all of 6-3 and more then looks the part. Brody takes his academics very seriously and is being courted by multiple Ivy League schools, with North Dakota of the Big Sky showing significant interest as well.
Expect to see Bagnall's recruitment pick up in the next month as highly respected head coach Don Johnson Jr. says, "Brody can play and do well at the D1 level, he just needs an opportunity as he's too good not to play major college football."
Air Force and Dartmouth are two other programs that have been very open in their interest. He has the size and mentality to step in and play relatively quickly and should be ranked among our top linebackers state wide.
As stated earlier Coach Johnson has worked with and played against some of the top HS and college athletes from around the country. His ability to evaluate and project on kids is better then most, and he for see's Bagnall as an elite backer that can play at the highest level.
With signing day around the corner we will bring you updates on Brody as they happen.