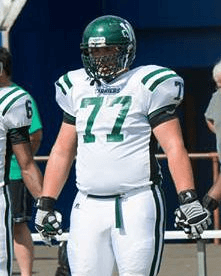 Even though he played his final three season of prep football at a 1A school, Charles Wright's Robert Luke is not a small-time football prospect. He's getting looks from plenty of Ivy League schools and has a walk-on offer from a Big Ten program.
"Michigan has invited me to walk-on and that's something I am considering," Luke told Northwest Elite Index. "I've also heard from Boise State, Ohio, Eastern Washington, Washington State and Eastern Michigan as well.
"The schools that seem the most interested in me though are the Ivy League schools, especially Harvard, Yale, Dartmouth and Princeton. They haven't offered yet, but I think they like me a lot and I'll probably go visit them in January."
As a freshman, Luke played quite a bit for a very good Gig Harbor squad, but then he and his parents made the decision to move to Charles Wright and that's where he finished his prep career.
"It was just a better move for me and something I felt like I needed to do," Luke said when asked why he made the switch. "I don't regret it at all and I think in the long run it will really help me."
Luke, a 6'4″, 315-pounder played both ways for the Tarriers, but said all of the coaches like him on the offensive side of the ball.
"I played center for us to start out, but then moved to guard because they liked to use me to pull," Luke said. "I think I was a lot quicker than they anticipated which is why they moved me."
With his size, feet and athleticism, Luke is a player that should have at least one offer from a school out west, but at this point none have been forthcoming. He can play any of the three interior spots at the next level, but with his smarts, he looks like an ideal fit in the pivot.
We will continue to keep track of Luke's progress through the recruiting process and we will update news on him as it happens.